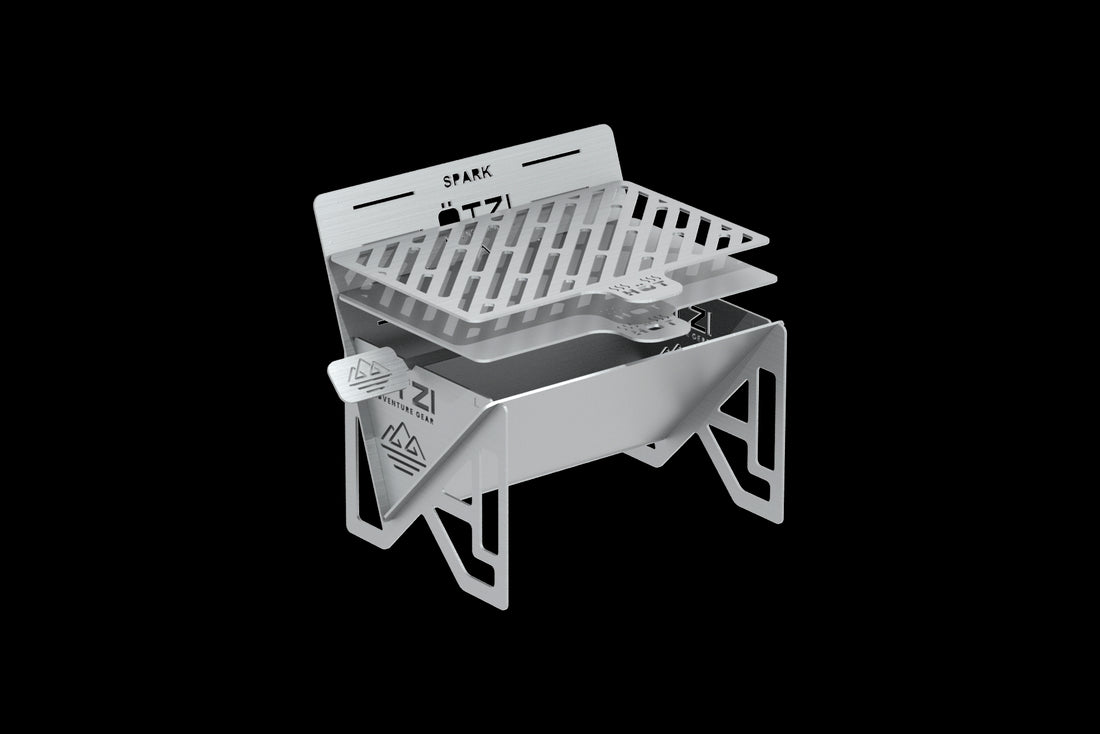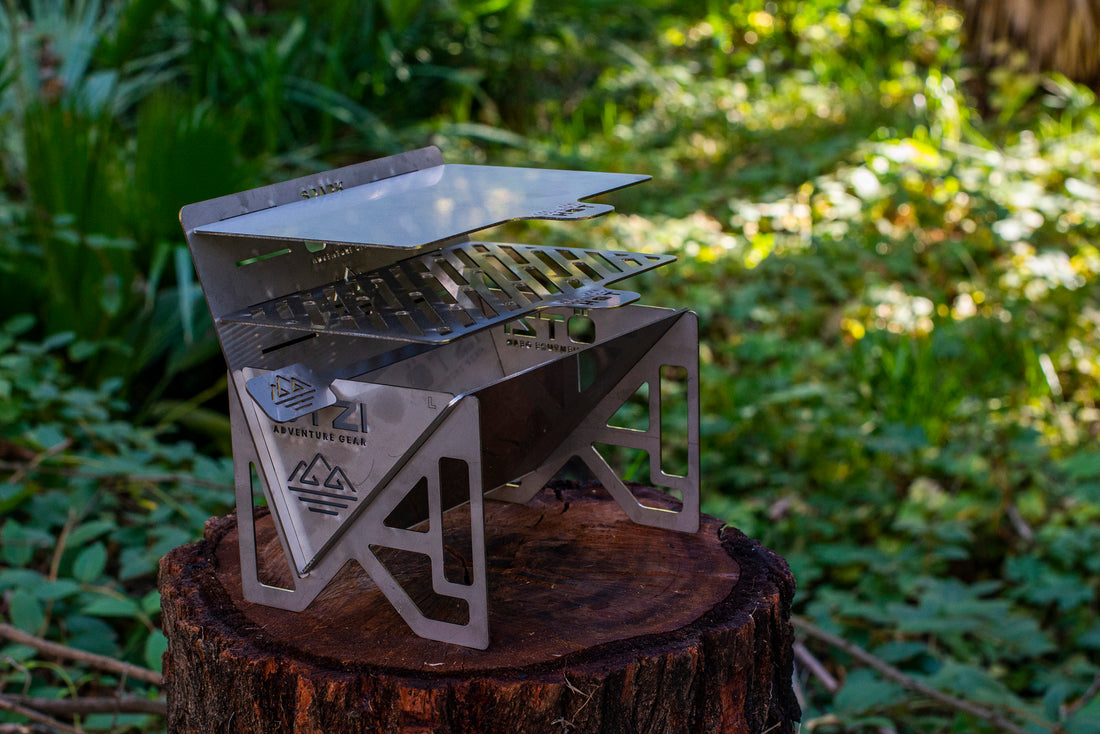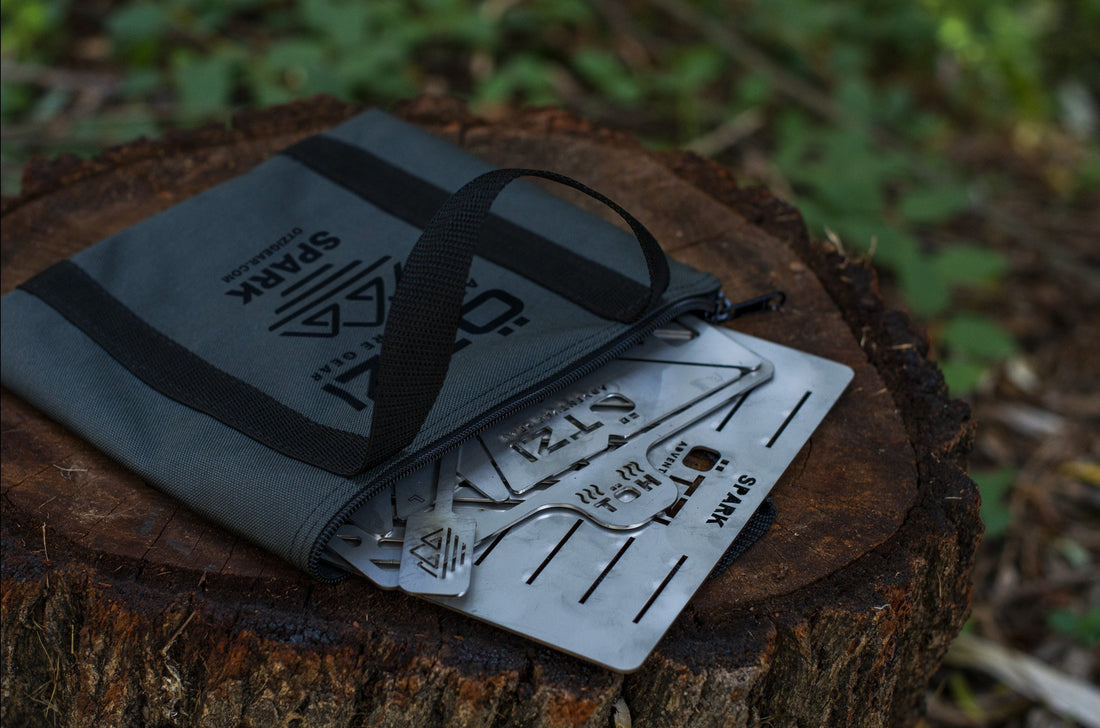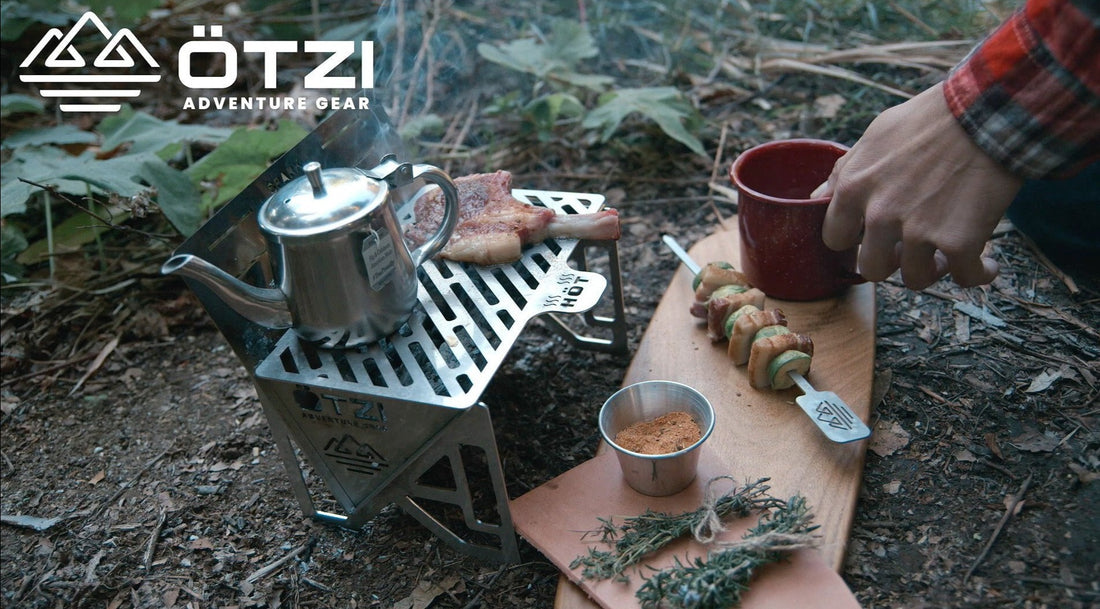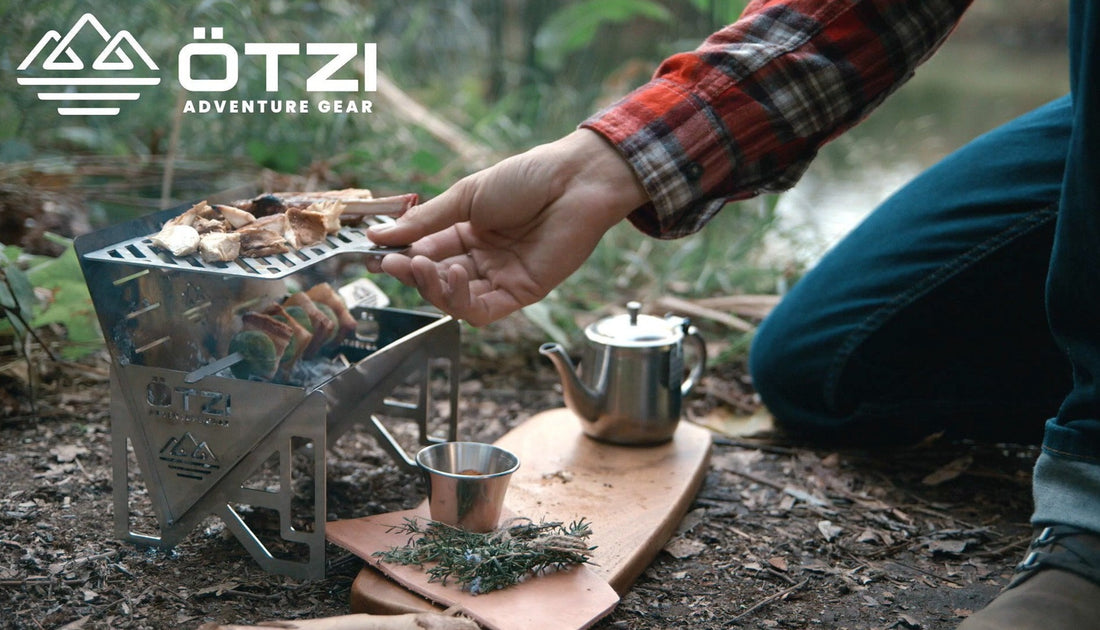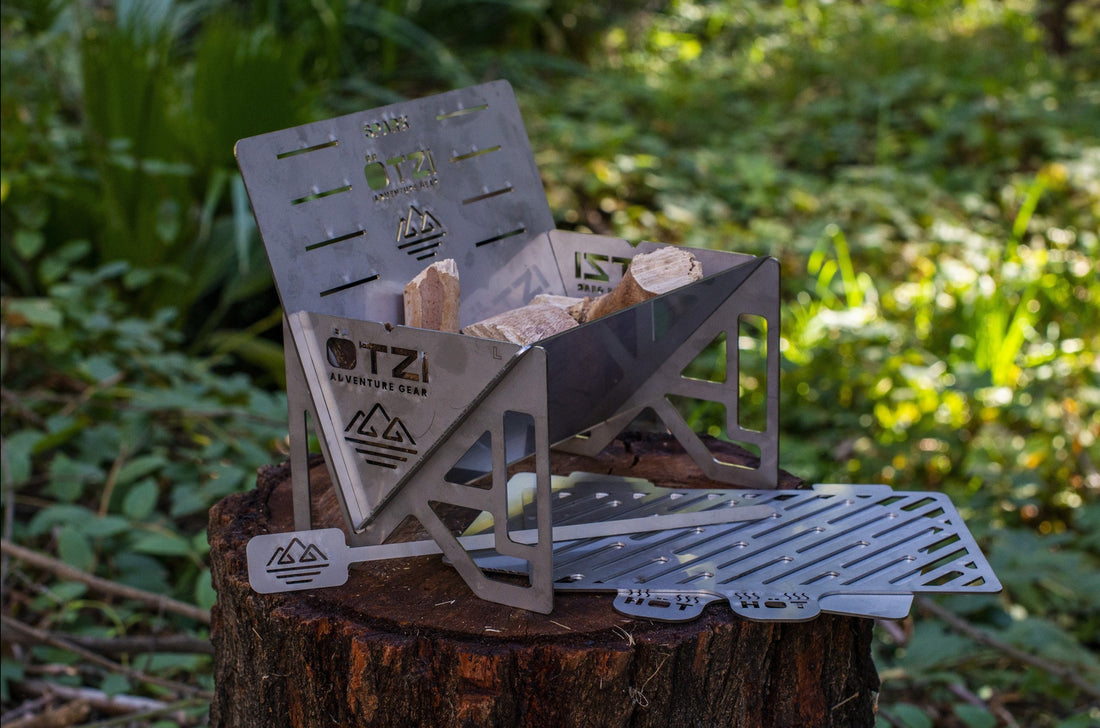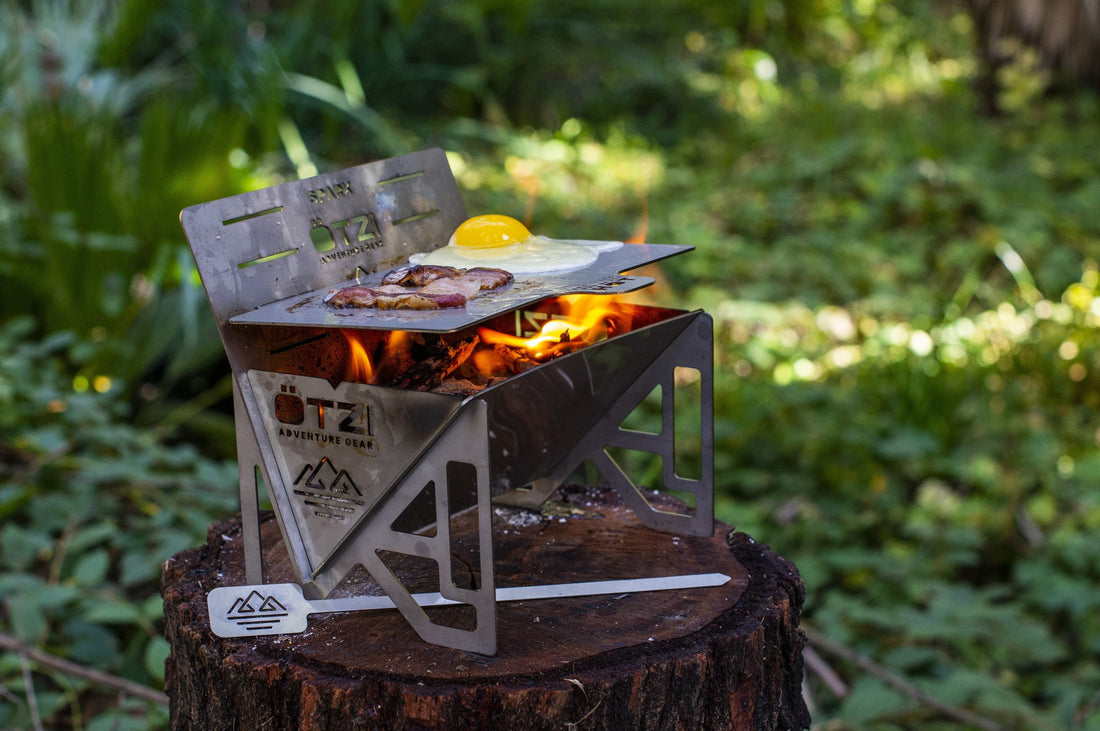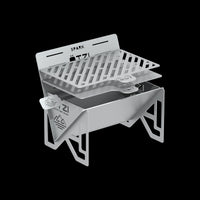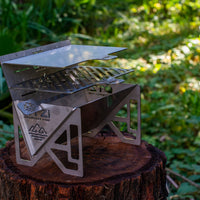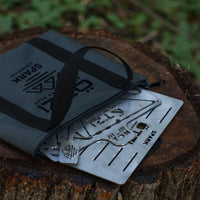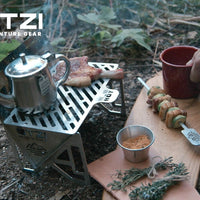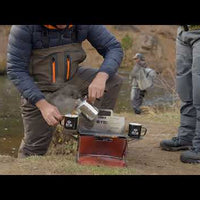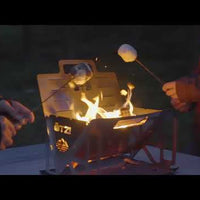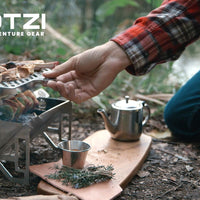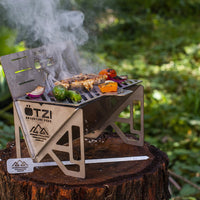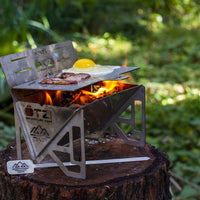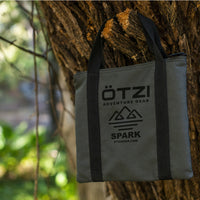 Otzi Spark Portable Single Person Grill *Stainless Steel*
Grill Plate Size - 6 x 9 in (15 x 23 cm)

Overall Size - 9 x 7.5 x 6 in (23 x 19 x 15 cm)

Weight - 4 lbs (1.8 kg)
Our smallest flat pack is perfect for 1 person. Great for compact vehicle camping. Weighing in at 4 pounds and measuring 9" by 9" when stored in the carry case the Spark is a great combination of durable and compact.

The cook surface of the Spark is perfect for a single camper or couples. Like all Otzi flat pack grills the Spark cook plates can be adjusted to 4 different heights, giving complete control over the cook heat throughout the cooking process. Cook meals perfectly no matter the heat of your fire. Roast vegetables after grilling a steak by moving the grill up, and even keep food warm while the rest of the meal is being prepared by moving the cook plate to the top position.

Our 6-position skewer holder and flat skewer design work together for great kebab cooking control. Cook evenly on all sides and never have food spin on the skewer or the skewer spin on the grill. Our skewer is also great for roasting marshmallows and even makes a great prod to tend your fire.

Packs flat into our true ballistic nylon carry case. The case is durable, easy to clean, and resistant to dirt and water.

Available is both High Strength Carbon Steel and Stainless Steel
1 - Spark Portable Grill Frame

1 - Grill Plate

1 - Griddle Plate

1 - Skewer

1 - Ballistic Nylon Case
Otzi Spark Review
Check out this great in-depth demo and review on the Otzi Spark flat pack grill by AS THE CROW FLIES HIKING!
Get a detailed view of the features and components of the Spark as well as see it in action with some great food.
Great product and great service
Stoked with the product and the personal touch of this family business.
SUPER DOPE
This thing is unreal and so compact. I'm I love and obsessed with it. I'm most likely gonna get the bigger model eventually for day trips. The spark is great for backcountry trips or solo day trips. Thanks Otzi Fam!
Bought it for motocamping
Exceptional quality, got it to use for motorcycle camping trips since space is a real issue. I already tried it out at home with a 14 Oz strip steak. It performed excellent! Can't wait to take with me this summer.
Awesome little grille
I have been comparing little camping stoves/grills for a while, and many just seemed cheaply constructed and i was hesitant to spend more than $25-30 on a little portable grill.. But then I came across an ad for ötzi grills and loved the looks and placed the order. It shipped quickly and i was very pleased when it arrived, assembles in seconds. perfect for backpack camping. I will most likely buy one of the larger models in the future to leave in the vehicle for trips. 😀