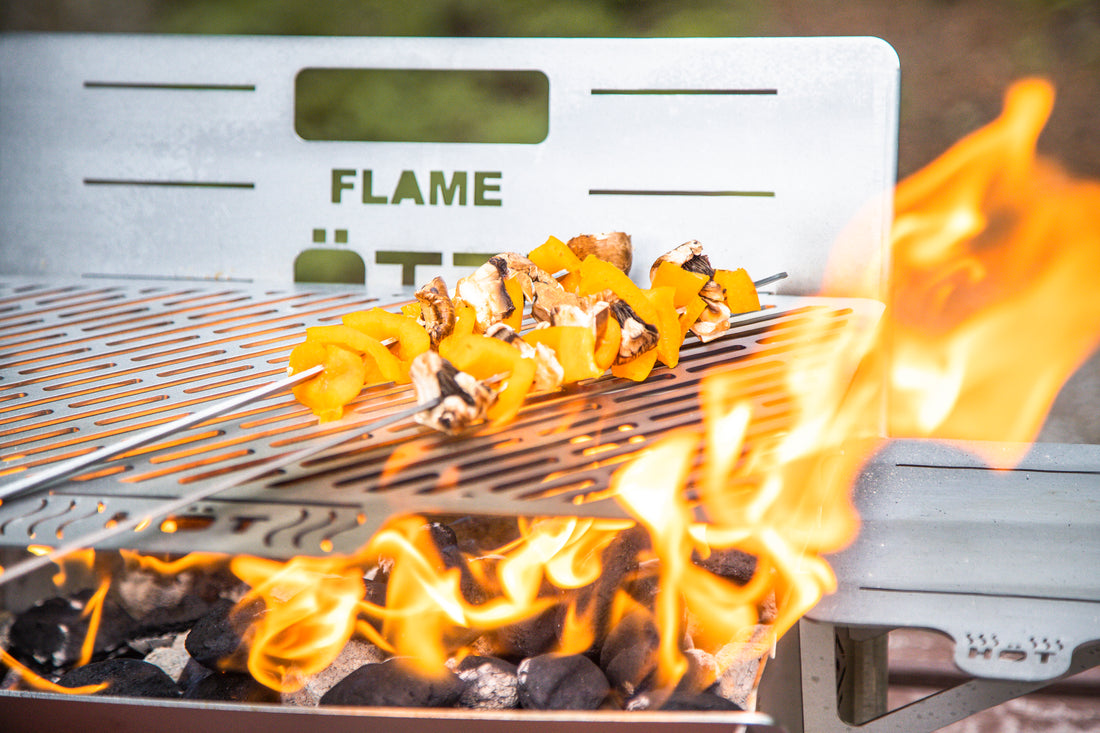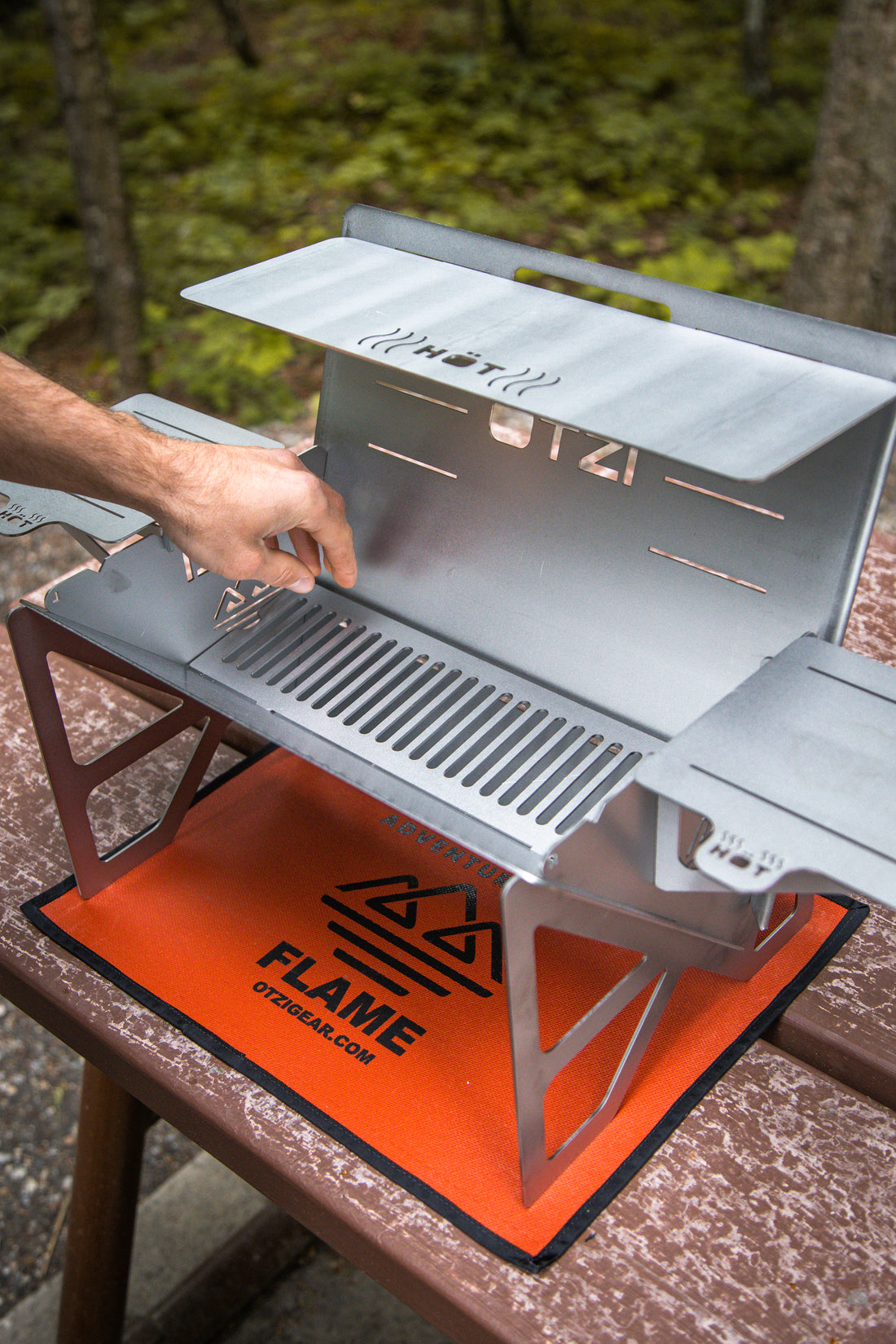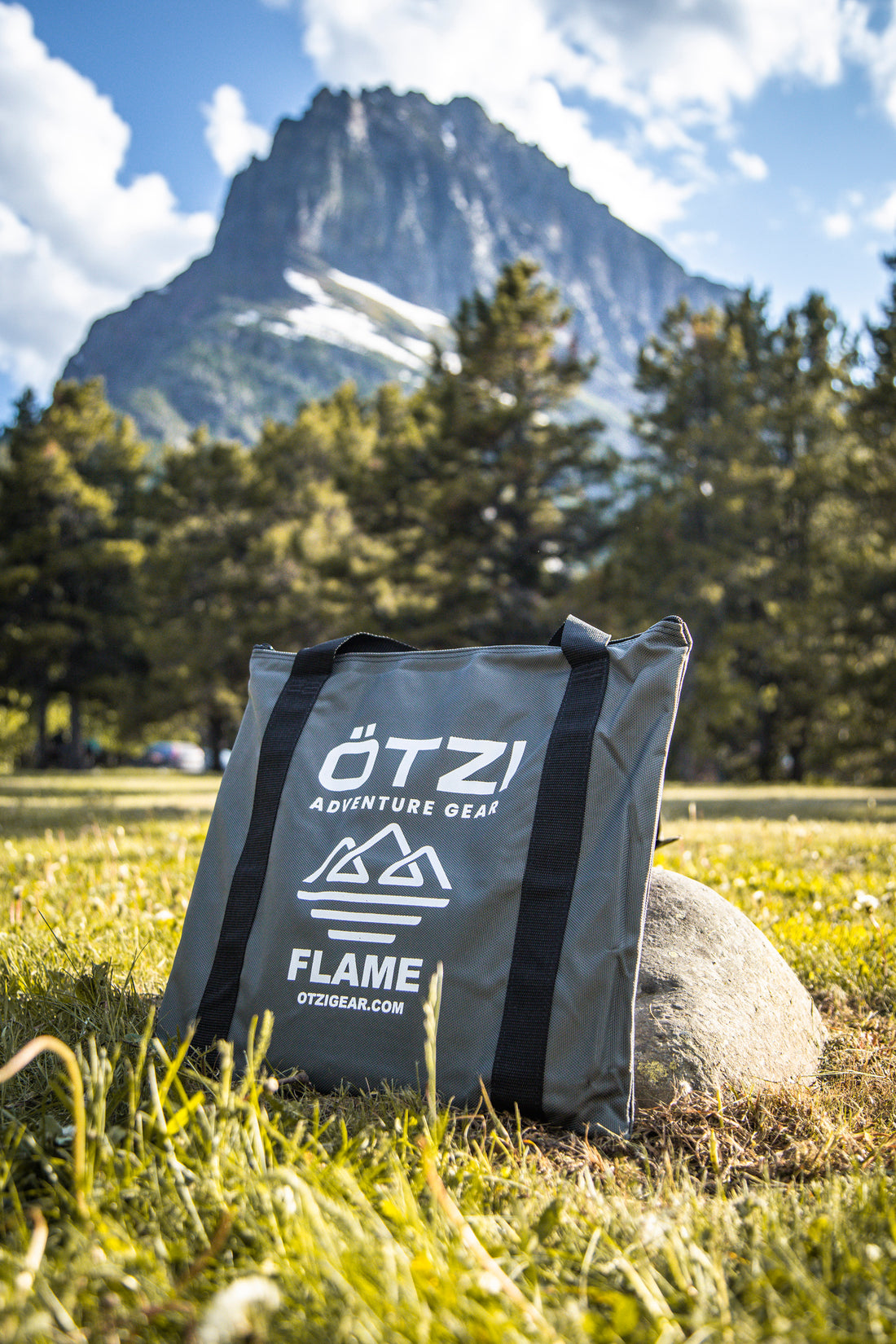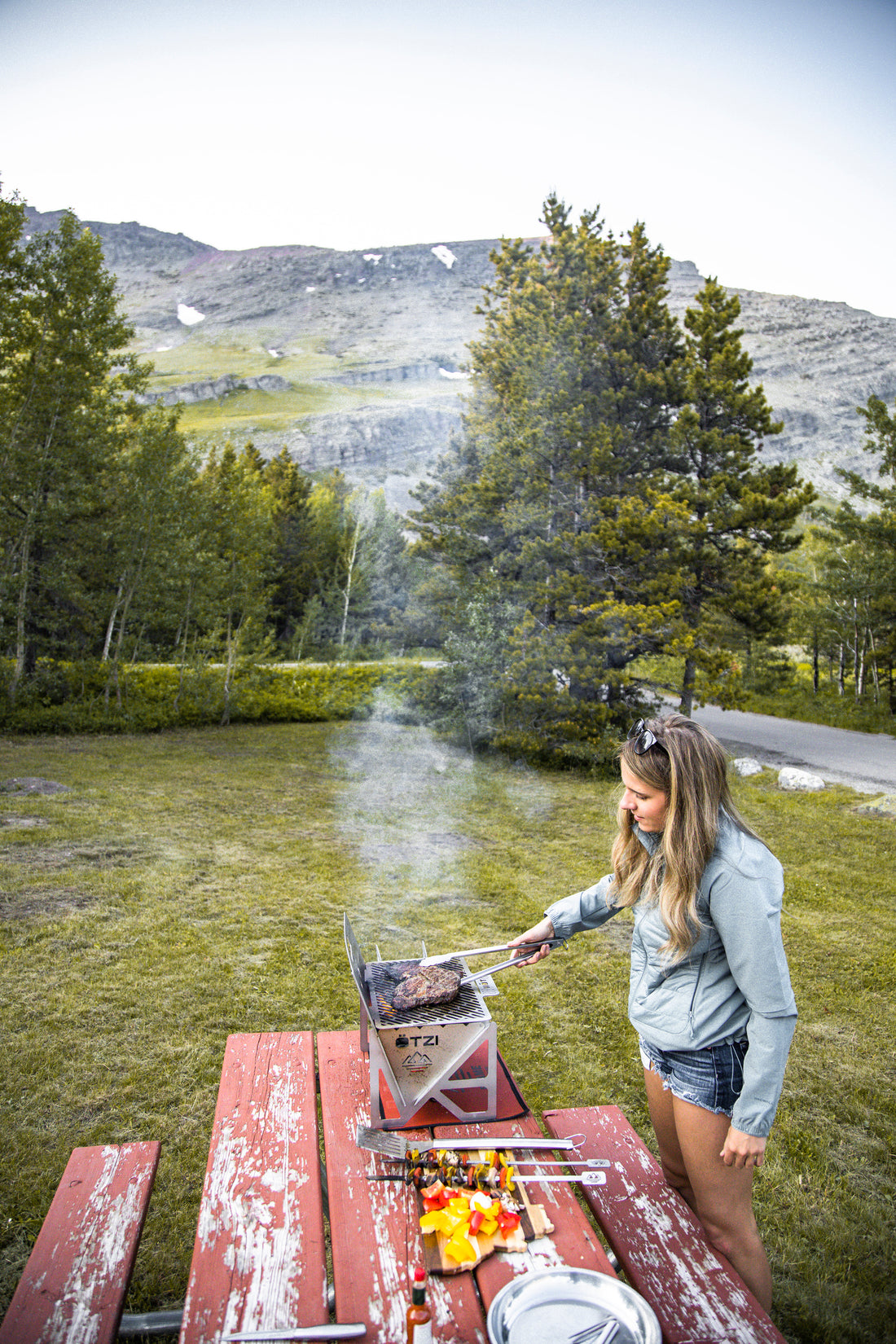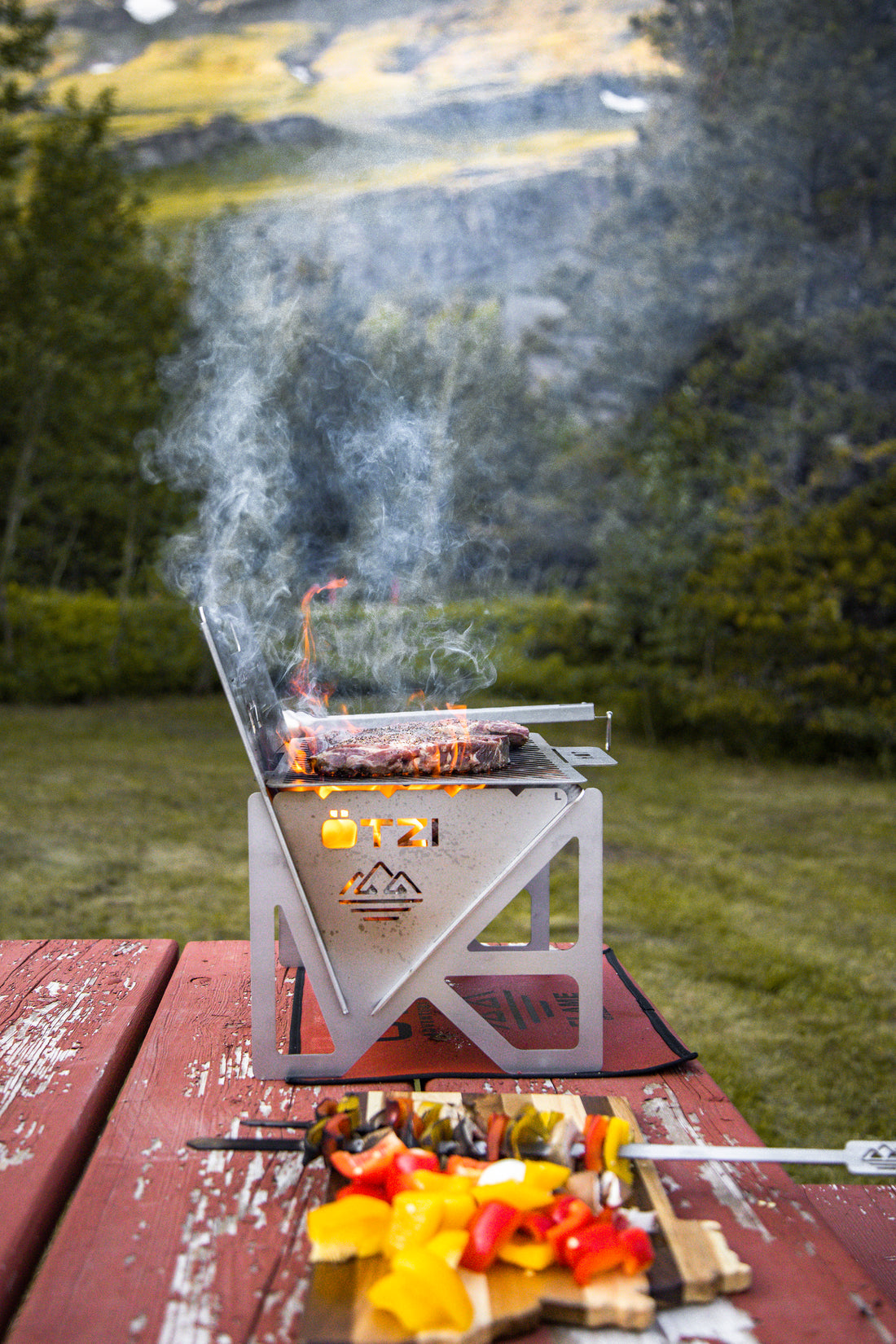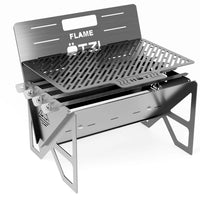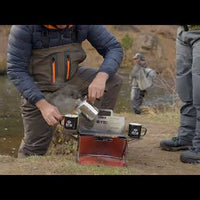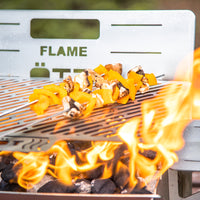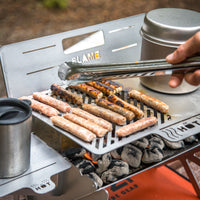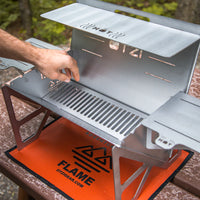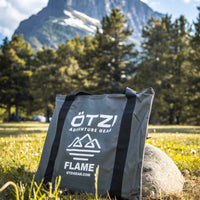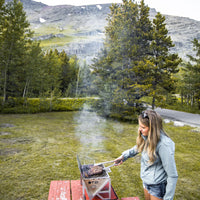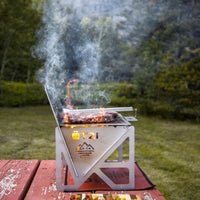 Otzi Flame Portable 4-6 Person Grill *Hybrid Alloy*
Grill Plate Size - 10 x 16 in (25.5 x 40.5 cm)

Overall Size - 16 x 14.5 x 12.5 in (40.5 x 37 x 32 cm)

Weight - 17 lbs (7.7 kg)
Our largest flat pack is perfect for 4-6 people. Great for camping, overlanding or van life. Weighs in at 17 pounds , stores in a 16" by 18" case and breaks down completely flat. Perfect for stowing away in the small spaces of a vehicle.

The cook surface of the Flame is perfect for small groups or families. Like all Otzi flat pack grills the Flame cook plates can be adjusted to 4 different heights, giving complete control over the cook heat throughout the cooking process. Cook meals perfectly no matter the heat of your fire. Roast vegetables after grilling a steak by moving the grill up, and even keep food warm while the rest of the meal is being prepared by moving the cook plate to the top position.

Our 6-position skewer holder and flat skewer design work together for great kebab cooking control. Cook evenly on all sides and never have food spin on the skewer or the skewer spin on the grill. Our skewer is also great for roasting marshmallows and even makes a great prod to tend your fire.

Packs flat into our true ballistic nylon carry case. The case is durable, and easy to clean, and resistant to dirt and water.

Available in our specially engineered Hybrid Alloy material. This new alloy offers the exceptional cooking experience of carbon steel while providing the convenience, easy cleaning and low maintenance of stainless steel.
Built For Adventure
Check out the Flame grill in action
BACK COUNTRY COOKING DONE RIGHT
The Otzi Flat Pack Grill was designed from the ground up for cooking. With an adjustable height grill, heat can be easily controlled throughout the cooking process. And to add even more cooking freedom we designed a 6-position kebab slot for the included skewer. Our patented design makes for an extremely effective and versatile cooking experience for the most adventurous outdoor enthusiasts.
1 - Flame Portable Grill Frame

1 - Grill Plate

4 - Skewers

1 - Ballistic Nylon Case
This is a wonderful piece of gear to have
It functions very well as a grill, of course, but serves also as a small but reasonably sized fire pit. I put a big cookie sheet under it to catch any ashes so it is very tidy. We like it a lot!
Super Slow Delivery
My order was placed over two weeks ago. First information about the the expected delivery date comes on the same day that I'm sent a survey inquiring how satisfied I am with the product I have yet to receive.
I suspect I will like the product a lot, but communication regarding delivery is abysmal. If they can't improve communication, they should at least delay their product satisfaction survey until the customer receives the product. This is very telling - they seem clueless about there own delivery process. While I'm obviously very dissatisfied with the delivery mystery and the lack of communication, I remain hopeful that I will love the product once I receive it.
Awesome product!
I just came back from a four day camping trip and was so impressed with this grill. Love how compact it is and also how you can adjust the height for what you are grilling. Super great that you can use charcoal or wood. We even grilled marshmallows and made s'mores . . . This will be great to use in places where there are no fire pits. Also very easy to clean which is always an added bonus in my book. 😀
Love N the grill
We used it 1st time at the races in Elma Wa.
And love it. Such a great compact grill was easy to clean and pack away for our next adventure.
Works great
We love to cook over wood so I cut some 6" pieces of cherry wood and the grill worked great. It is priceless to be able to adjust the grill height of the cooking surface on a stow away portable grill. Cooked supper using 1 normal sized piece of fire wood. We are going to love this grill!!!!