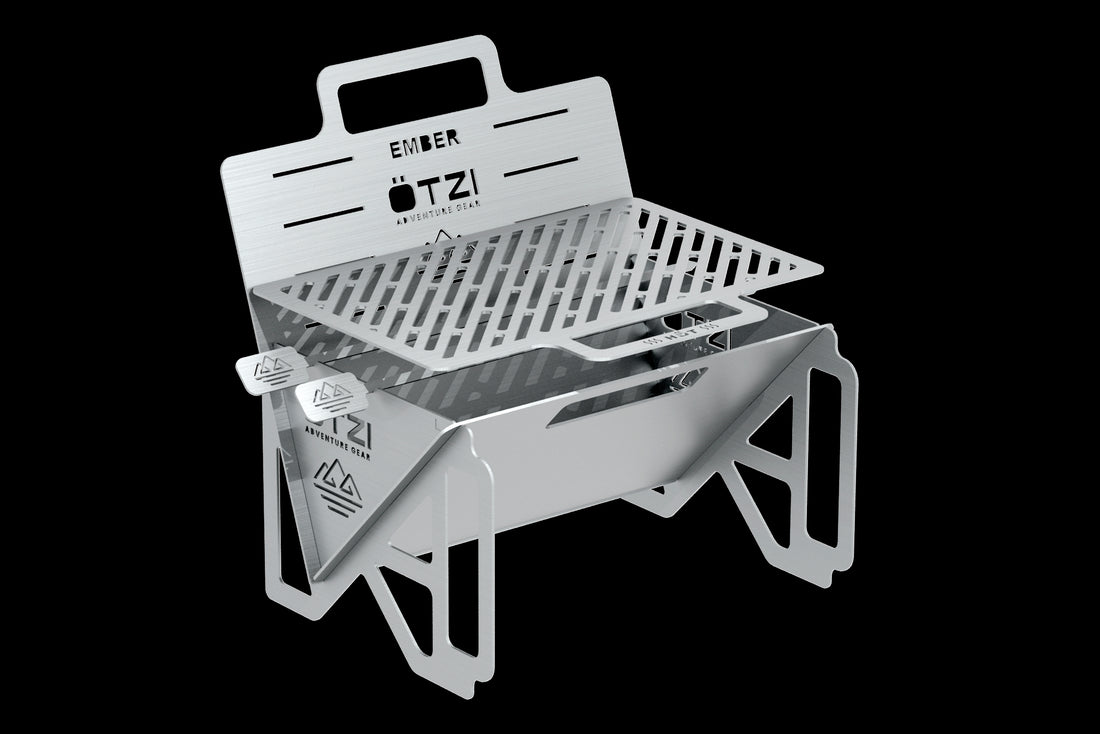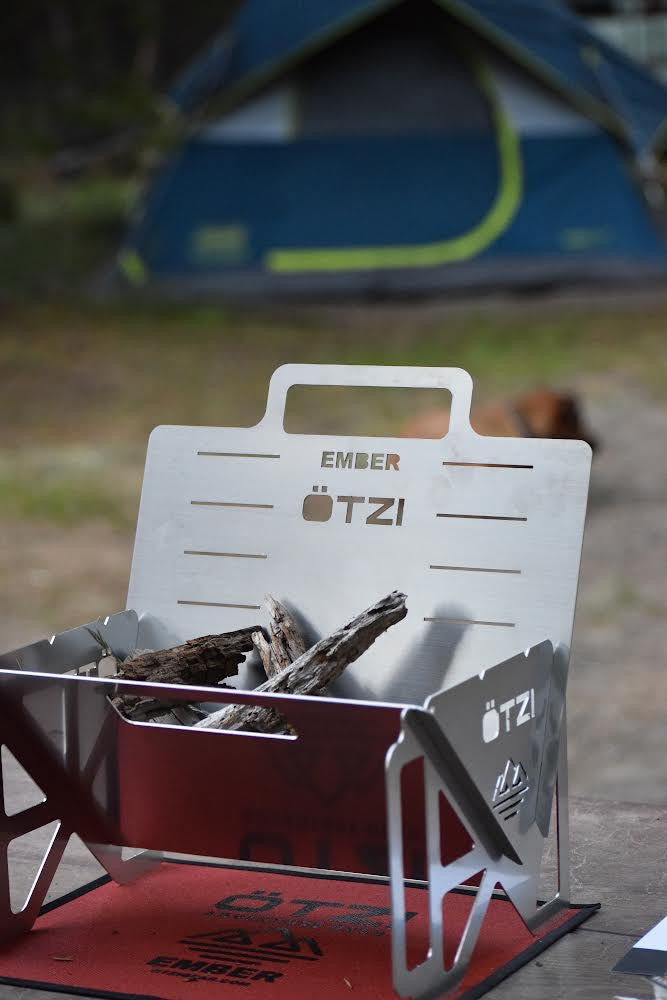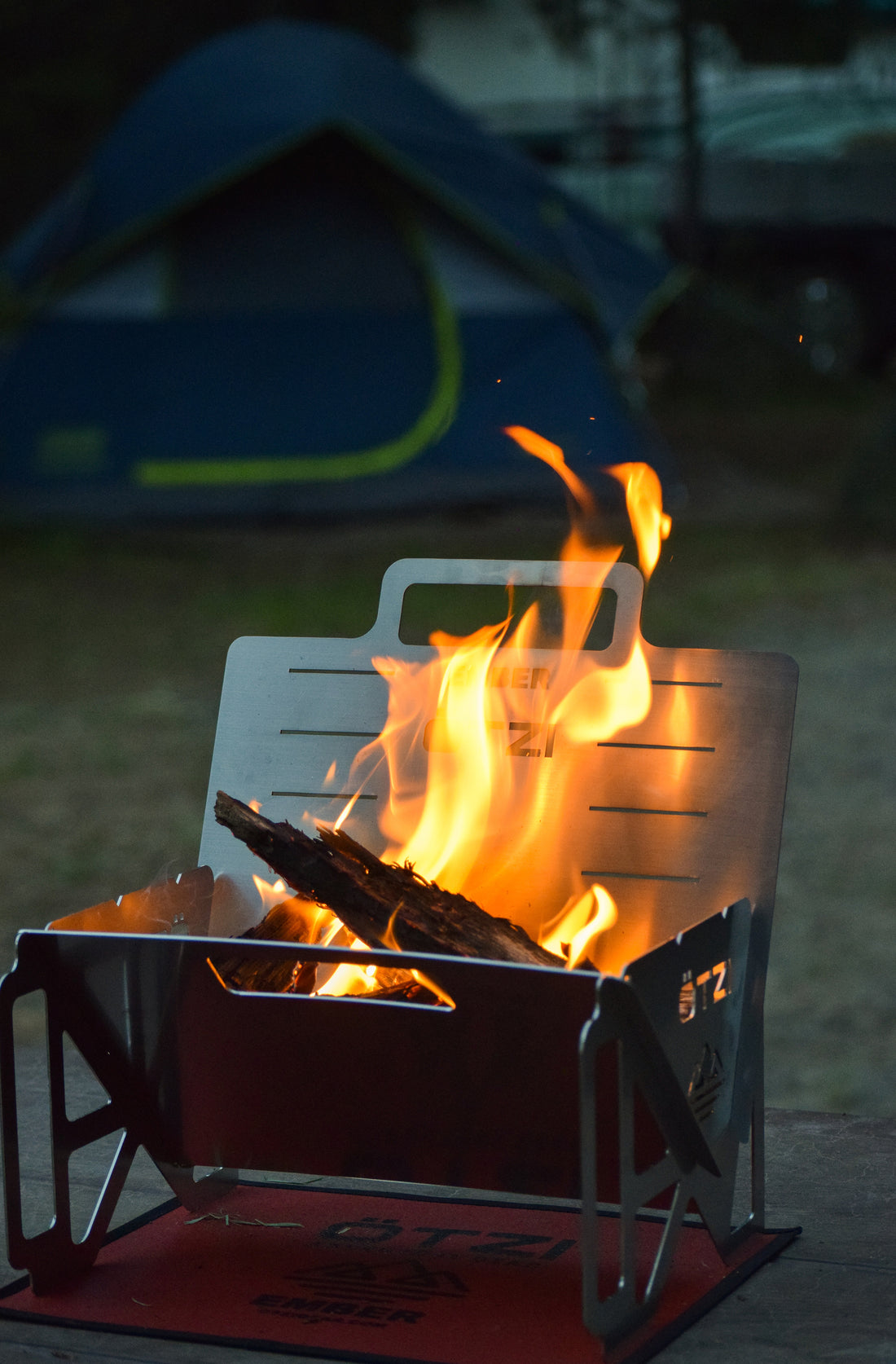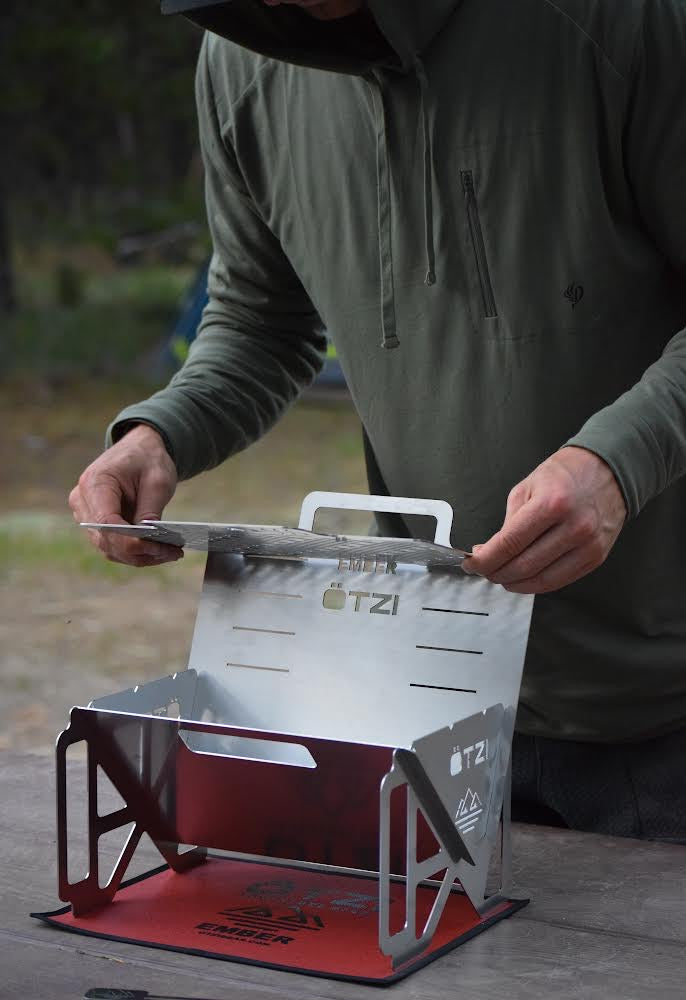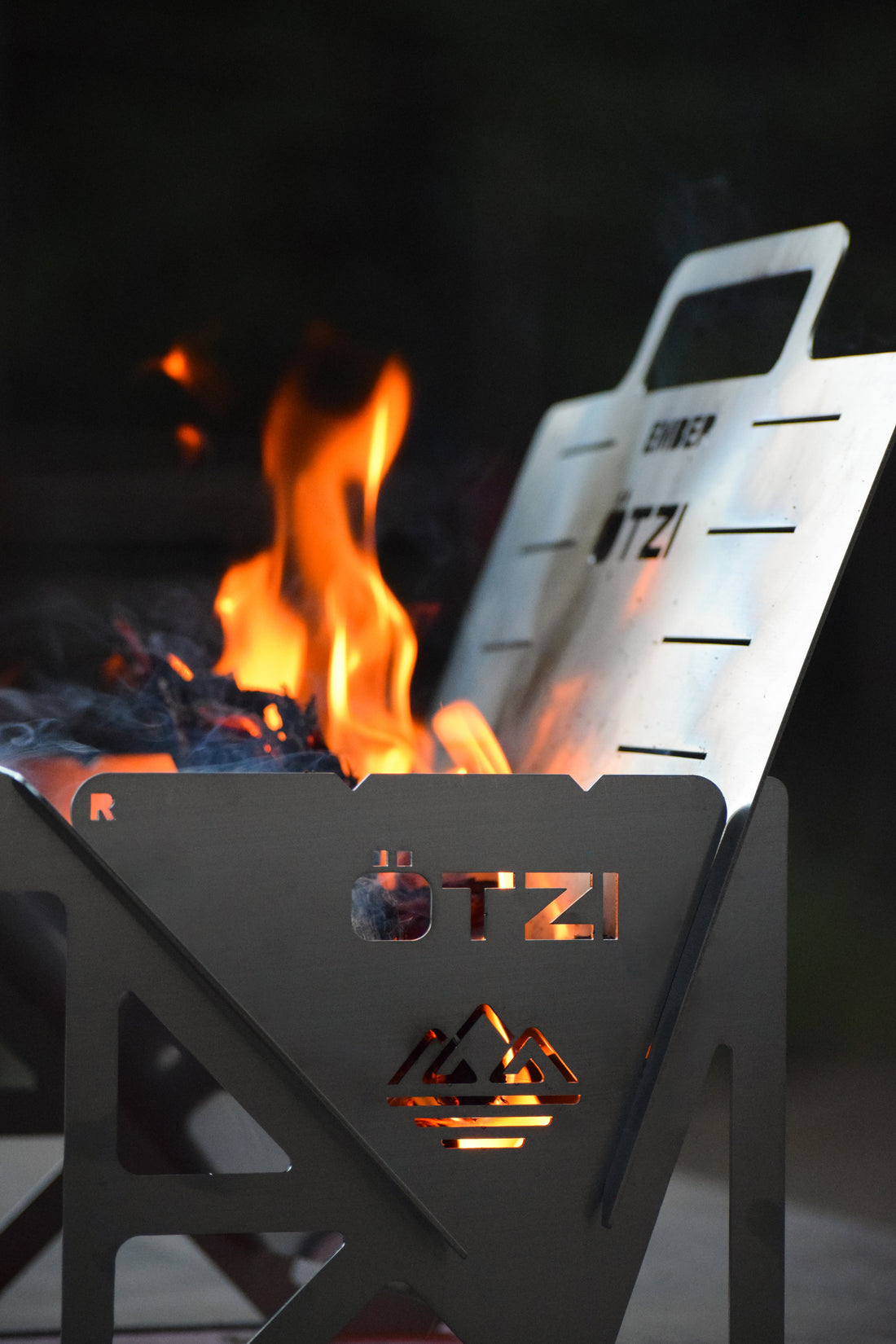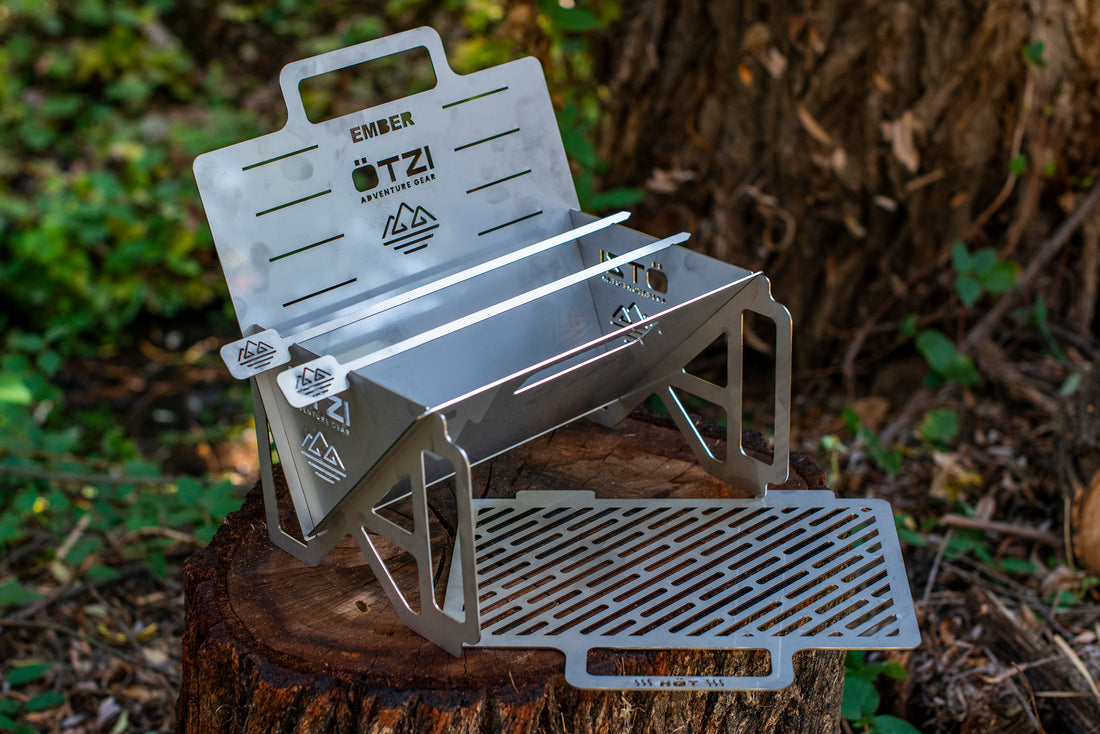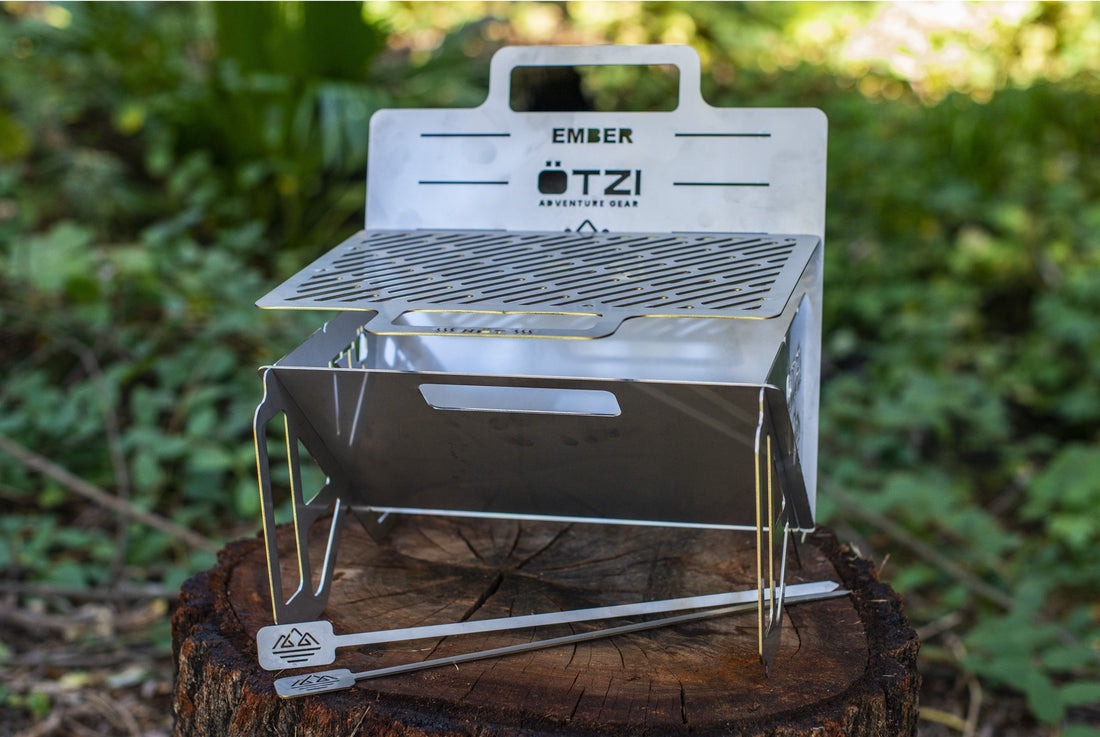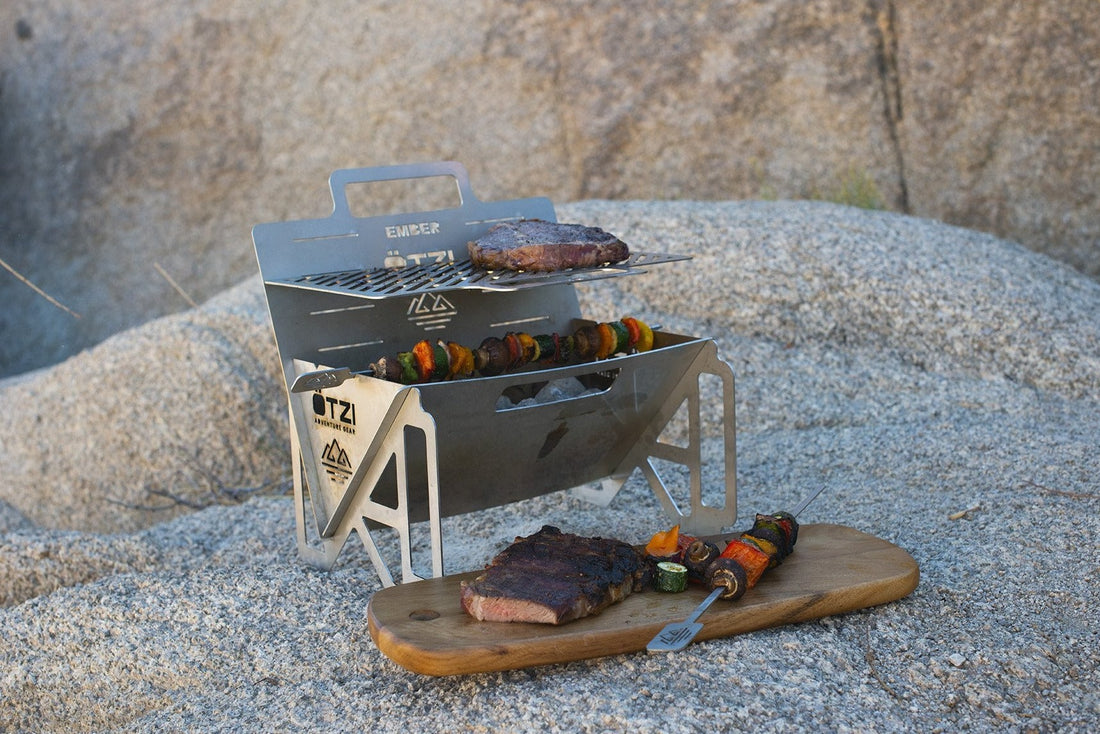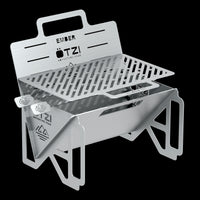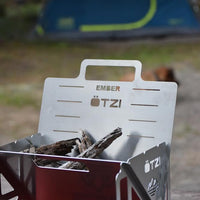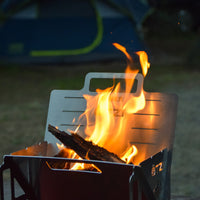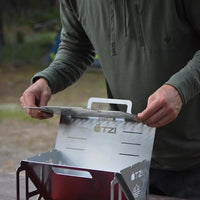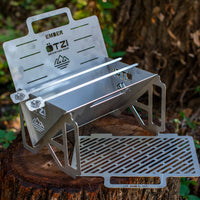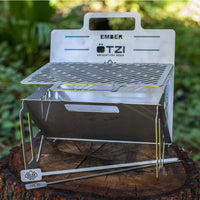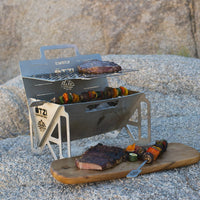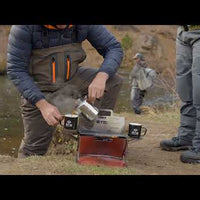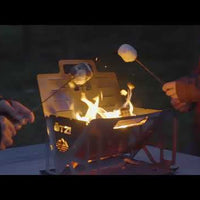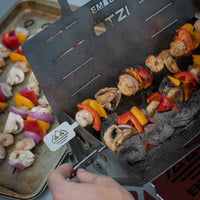 Otzi Ember Portable Dual Person Grill *Stainless Steel*
Grill Plate Size - 8 x 12 in (20 x 30 cm)

Overall Size - 12 x 12.5 x 9 in (30 x 33 x 23 cm)

Weight - 8 lbs (3.6 kg)
Our medium flat pack is perfect for 2 people. Great for camping, overlanding or van life. Weighs in at 8 pounds , stores in a 13" by 13" case and breaks down completely flat. Perfect for stowing away in the small spaces of a vehicle.

The cook surface of the Ember is perfect for small groups or families. Like all Otzi flat pack grills the Ember cook plates can be adjusted to 4 different heights, giving complete control over the cook heat throughout the cooking process. Cook meals perfectly no matter the heat of your fire. Roast vegetables after grilling a steak by moving the grill up, and even keep food warm while the rest of the meal is being prepared by moving the cook plate to the top position.

Our 6-position skewer holder and flat skewer design work together for great kebab cooking control. Cook evenly on all sides and never have food spin on the skewer or the skewer spin on the grill. Our skewer is also great for roasting marshmallows and even makes a great prod to tend your fire.

Packs flat into our true ballistic nylon carry case. The case is durable, and easy to clean, and resistant to dirt and water.

Available in high strength carbon steel and stainless steel
1 - Ember Portable Grill Frame

1 - Grill Plate

2 - Skewers

1 - Ballistic Nylon Case
So far, so good.
Just used twice but love the compact travel size and works great on picnic table. Instruuctions recommend 15 to 25 coals. For hot fire to cook salmon shish kabobs and cut up veggies 2nd night on grate, needed the full 25+, even if using a good coal, like Kingsford.
Handy
Looks nice portable can't wait to use it
An amazing Little Grill
Bought the grill to carry in my van, primarily for the compact size. The few times that I have used it have convinced me that it is much more than a convenient and small unit. After grilling both protein and veggies, I couldn't be happier. The grill performs exactly as advertised and I would recommend it to a friend without hesitation.
Very nice compact grill
I wanted a portable grill for 2 to 4 people and the Ember is working out perfectly. Very compact when disassembled and sturdy when put together. The stainless steel sections are cut and finished nicely and go together well. I also like being able to change the grill height for different foods or charcoal heat intensity. I recommend this grill and buying from Otzi, they shipped my order quickly and everything was well packaged.
Christmas Cheer
Hard to give a real thorough review when you receive during Canada's winter wonderland. I consider myself more than a weekend warrior overlander and have been cooking in the wilderness for over 45 years. Since I exploded my first can of Campbell soup, due to the inability of not removing the lid before placing on a open fire. Oh well, we all have our stories.
Had some adventure touring friends visiting over the holidays and I decided to show off my new purchase. Size, ease of assembly and performance was a huge hit. What was I thinking, wasting the storage room for years hauling, barbecues and fire pits. This thing works amazing and I can't understand why every trunk or adventure motorcycle doesn't have one. This grill deserves the Q award from James Bond 007. Highly recommended, service and communication was top notch. Well done…..