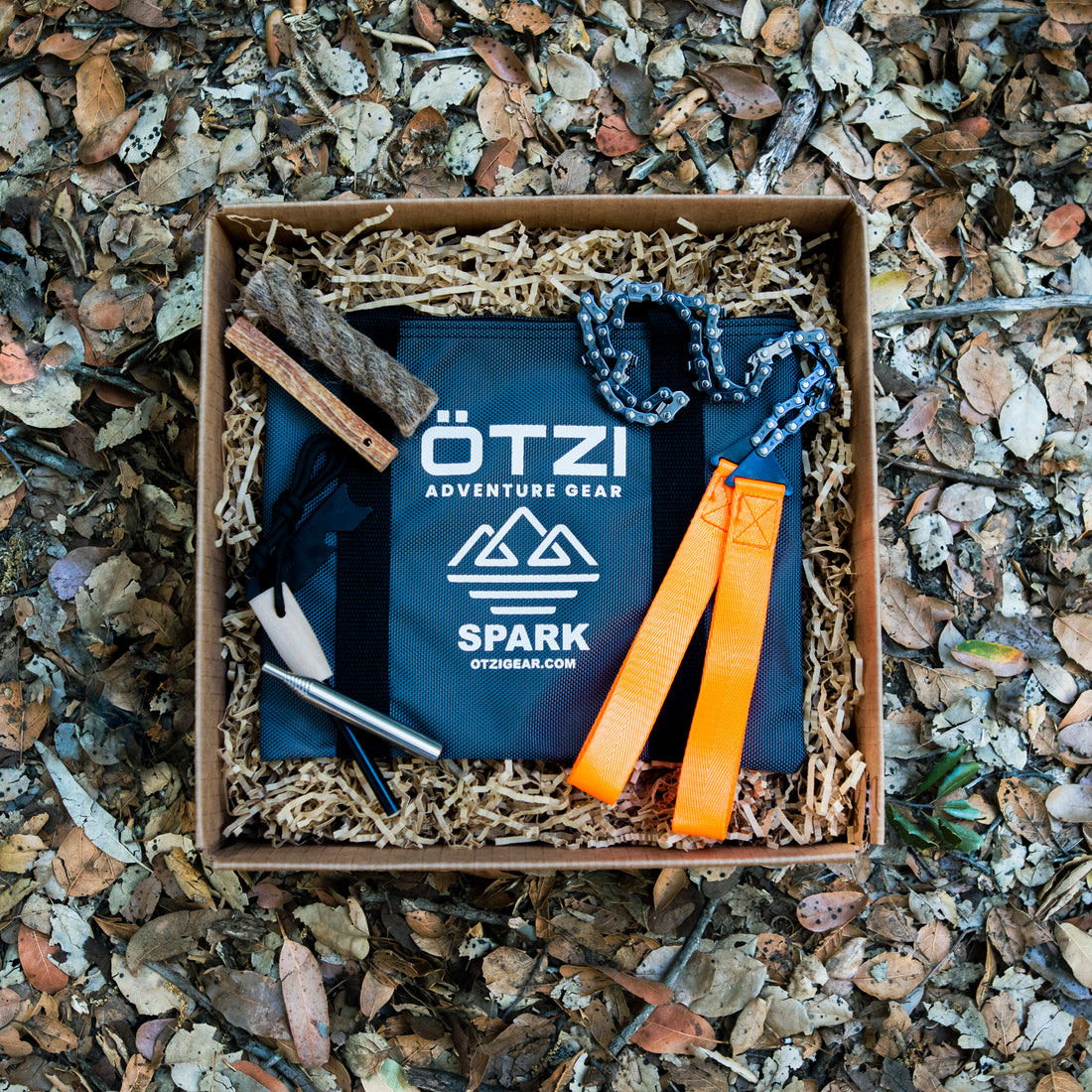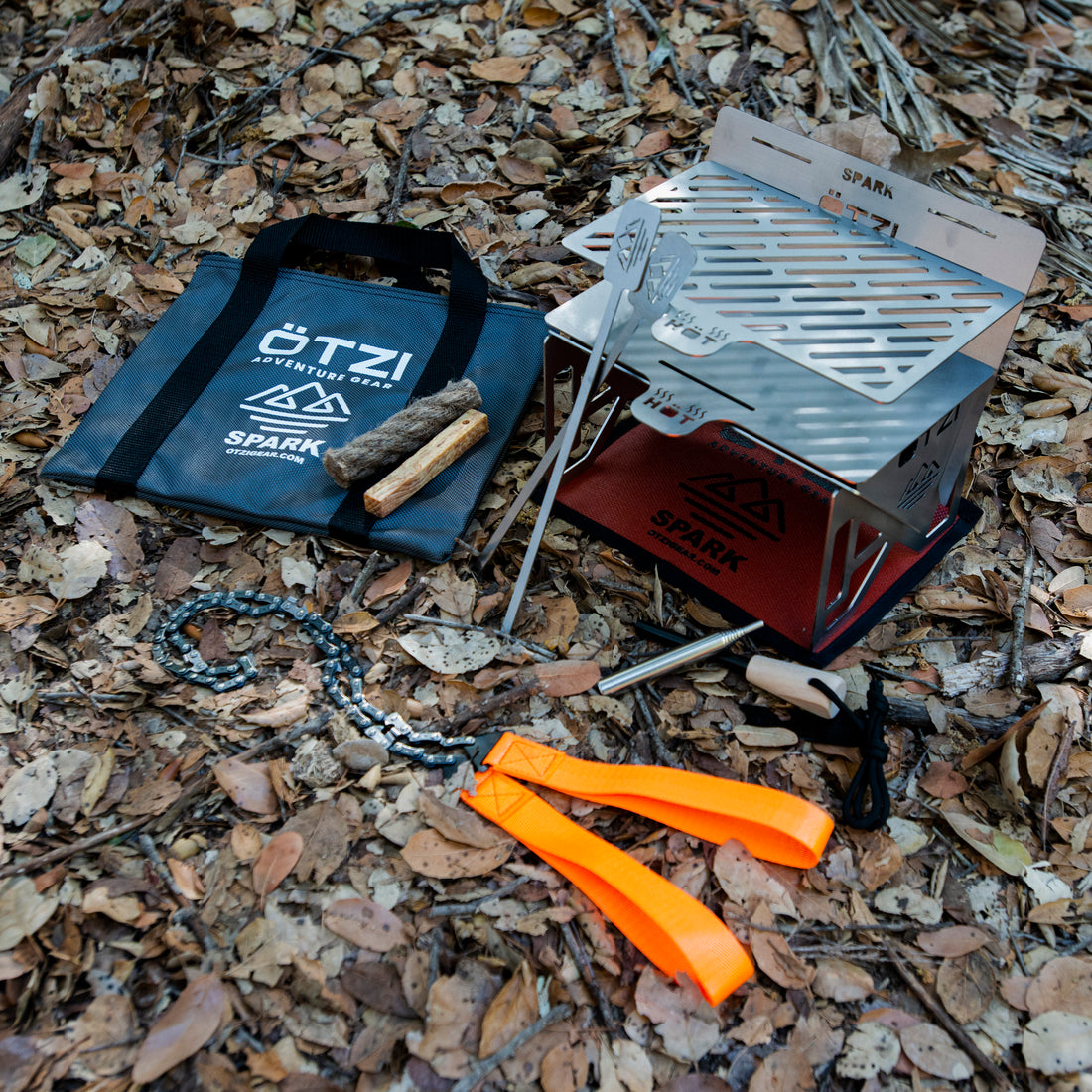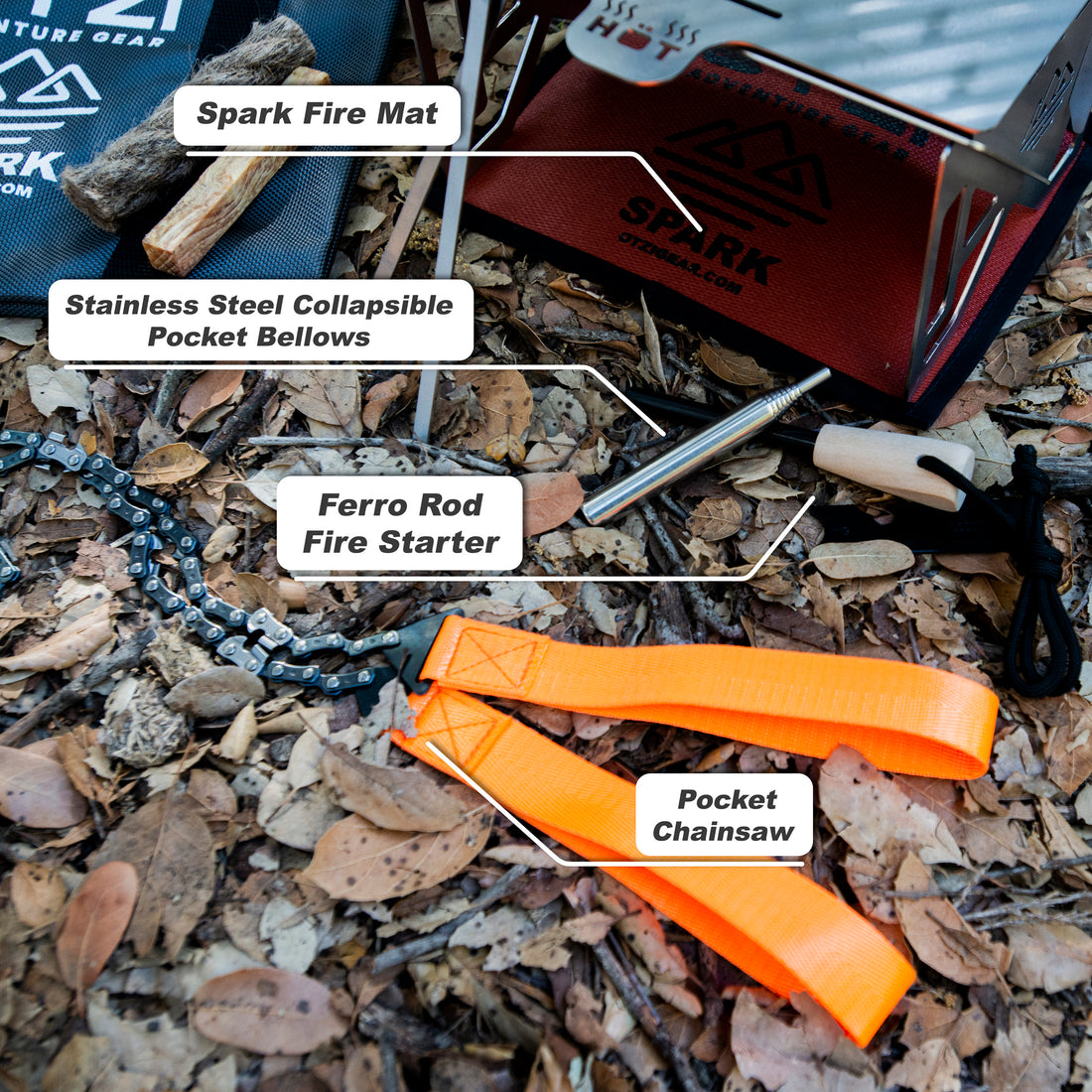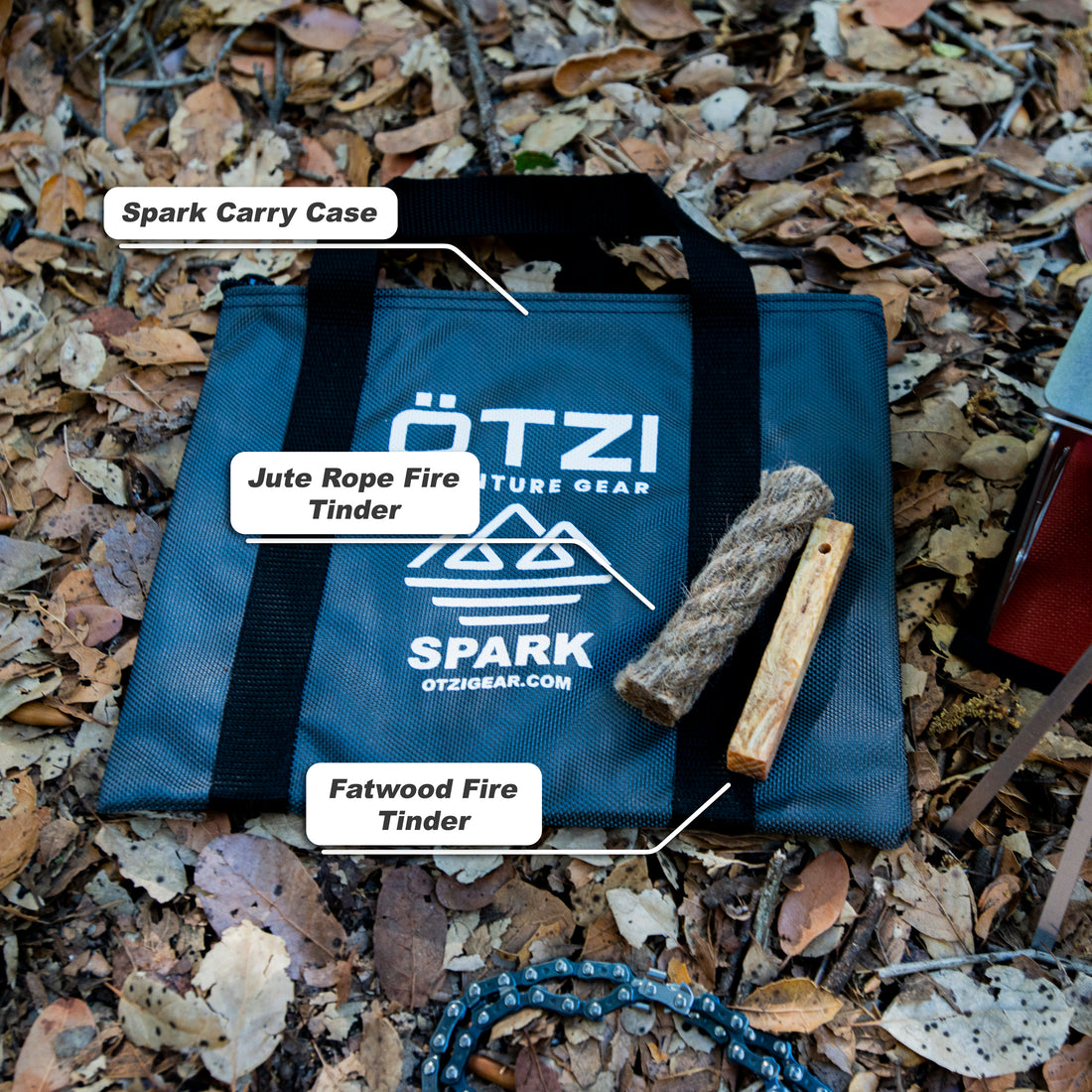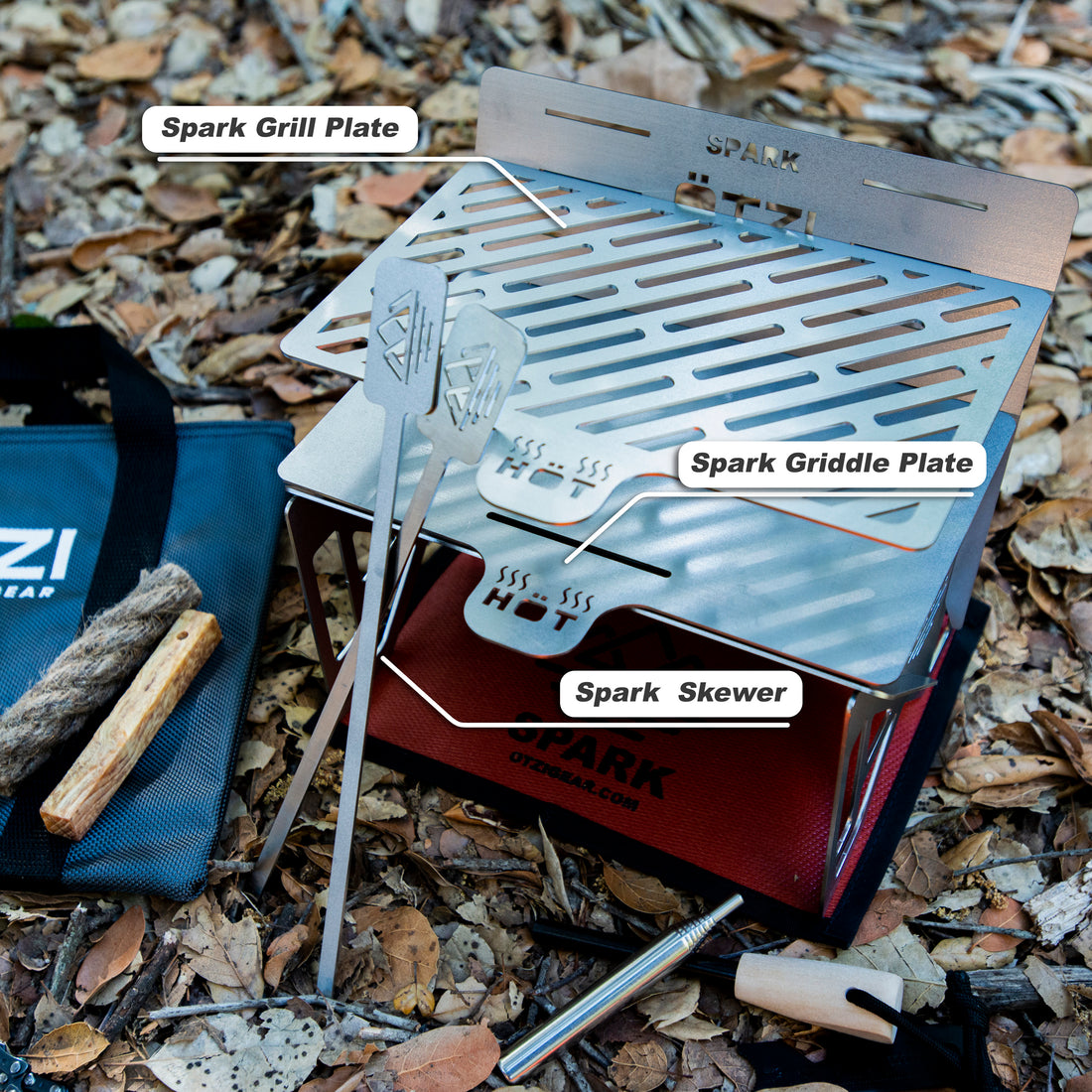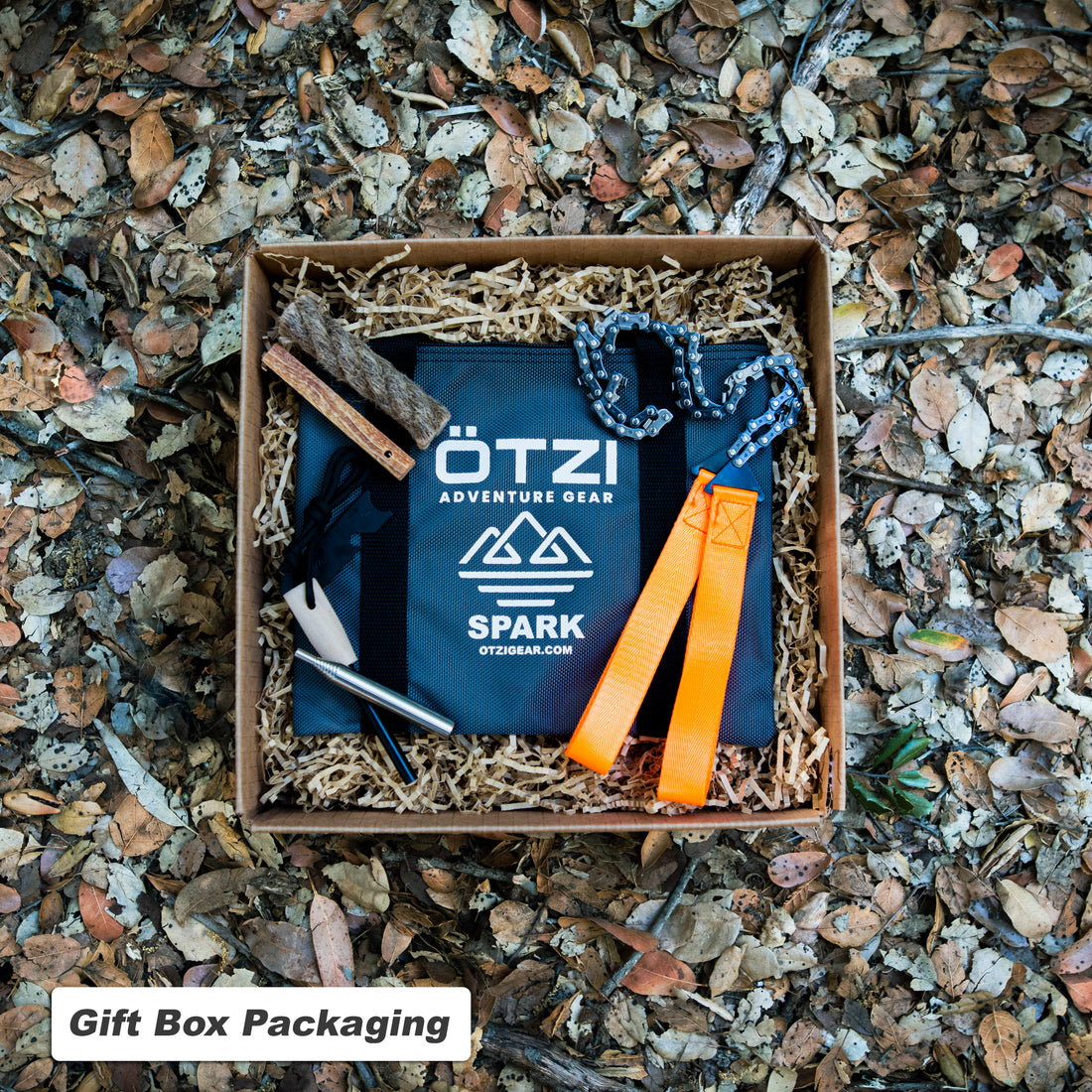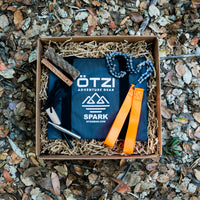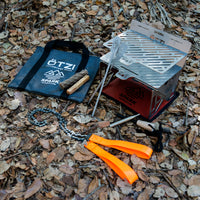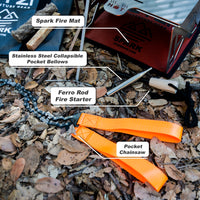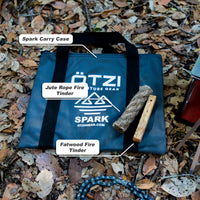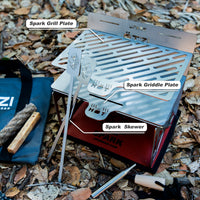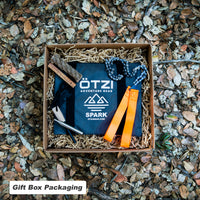 Otzi Spark Backcountry Bundle/Gift Box
Otzi Spark Backcountry Bundle
*Also available as a Gift Box! Select "Gift Box" at checkout to upgrade your order. Premium gift packaging and an exclusive Otzi Adventure Gear patch included!* 
  Save 10% with this bundle!
Our Spark bundle has everything you need for your backcountry grilling and cooking. From wood gathering to fire starting to cooking, we have you covered!

As a gift box this bundle is perfect for that person in your life who can't get enough of off-grid adventures. Equipped with all the necessities for foraging firewood, starting a contained fire, and cooking a meal at the optimal temperature, this box has it all!
Bundle Includes:
1 - Spark Portable Grill Frame *Stainless Steel*
As our smallest flat pack grill, the Spark is perfect for 1 person exploring the backcountry. Weighing in at 4 pounds and measuring 9" by 9" when stored in the carry case, the Spark is a great combination of durable and compact. 
Specs:
Grill Plate Size - 6 x 9 in (15 x 23 cm)
Overall Size - 9 x 7.5 x 6 in (23 x 19 x 15 cm)
Weight - 4 lbs (1.8 kg)
1 - Grill Plate
Like all Otzi flat pack grills the Spark cook plates can be adjusted to 4 different heights, giving complete control over the heat throughout the cooking process. 
1 - Griddle Plate
Perfect for eggs, pancakes, fajitas and many other meals requiring a flat solid surface without the hassle of using a pan.
1 - Skewer
With our 6-position skewer holder, evenly cooking a kebab has never been easier! The skewer can also double as a fire prod or marshmallow roasting stick.
1 - Spark Fire Mat
This fireproof barrier helps protect surfaces like tables and tailgates from heat, and catches any loose ash or embers that may escape from the grill, providing an even safer camp cooking experience. The fire mat also fits conveniently into the grill carry case.
1 - Ballistic Nylon Case
Our true ballistic nylon carry case is durable, easy to clean, and resistant to dirt and water. 
1 - Pocket Chainsaw
Perfect for wood harvesting, the bi-directional cutting teeth on our pocket chainsaw cut on both left and right hand pulls to make foraging more productive. Lightweight and easy to store in the grill carry case, this wood-cutting solution will outcut a hatchet!
1 - Stainless Steel Pocket Bellows
Our collapsible pocket bellows makes it easy to direct oxygen at a fire from an adjustable distance, keeping your fire going even in high altitude or wet conditions. 
1 - Wax Infused Jute Rope Fire Tinder
This jute fire tinder makes starting a wood fire fast and easy. The rope can be cut, stranded, and frayed to create easy-to-light tinder while offering a longer burn time than cotton or other fiber tinder.
1 - Fatwood Natural Fire Tinder
Together with our jute rope fire tinder, our fatwood fire tinder ensures a good start even in wet and difficult conditions. Completely natural and resin rich, this tinder is cut from the stumps of pine trees and is perfect for kindling shavings.
1 - Ferro Rod Fire Starter
The perfect fire starter for all-weather waterproof fire starting, our ferro rod feature a natural finish hardwood handle and come equipped with a multi-use striker featuring a map scale, micro ruler, serrated tinder scraper, hex wrench, and bottle opener. Where matches and lighters can fail or run out of fuel, our ferro rod will produce the perfect spark every time.
Compact and perfect for one person
Works well for traveling and camping on a motorcycle. The accessories are a great asset, especially the chainsaw and flint.
Amazing little stove!
I fire this little stove up shortly after it arrived and was immediately impressed with the coverage and grilling options.
Tea and meats were served to the family within minutes.
The saw makes quick work of hardened Maple limbs. Nice include.
Thank you for the innovation ergonomic carrying.