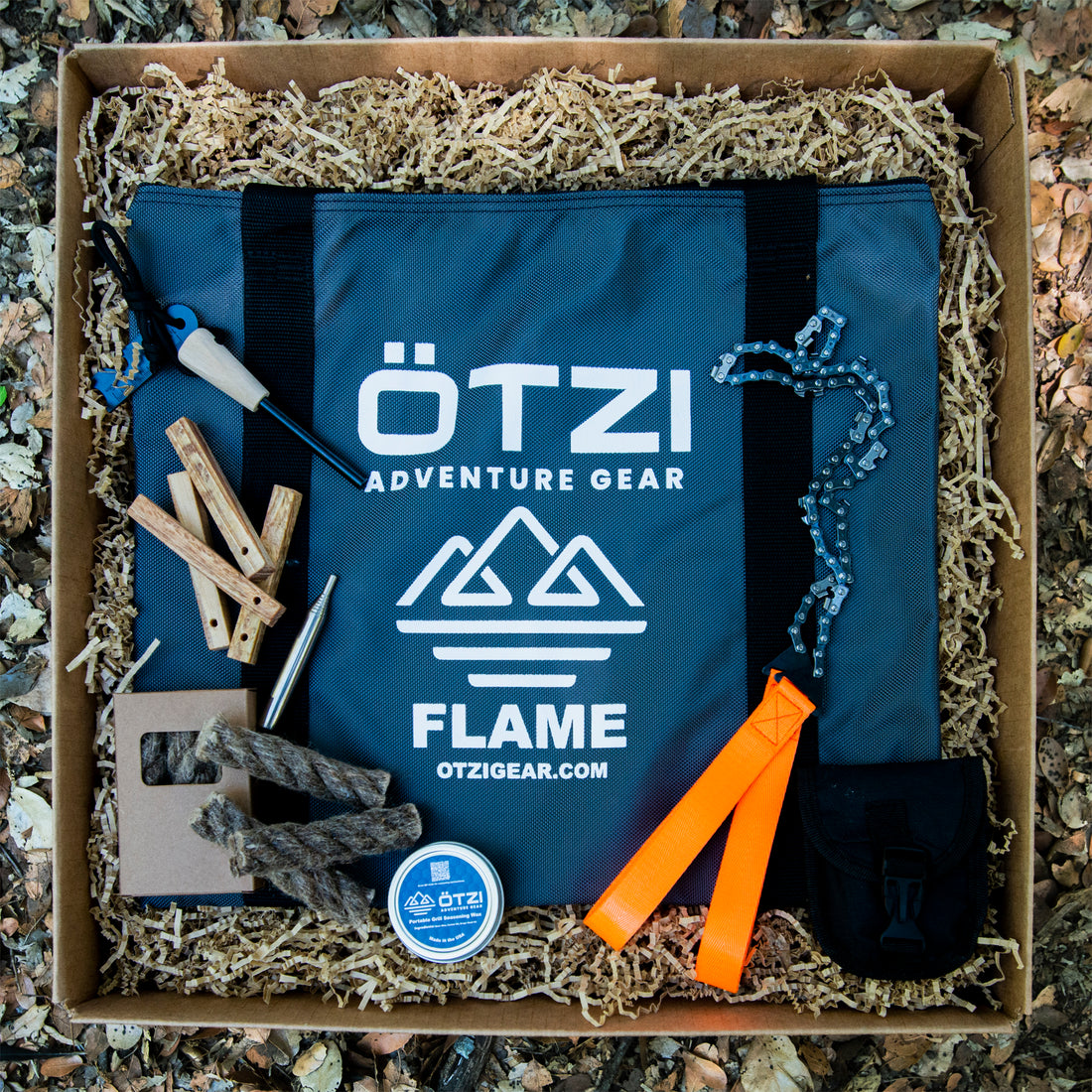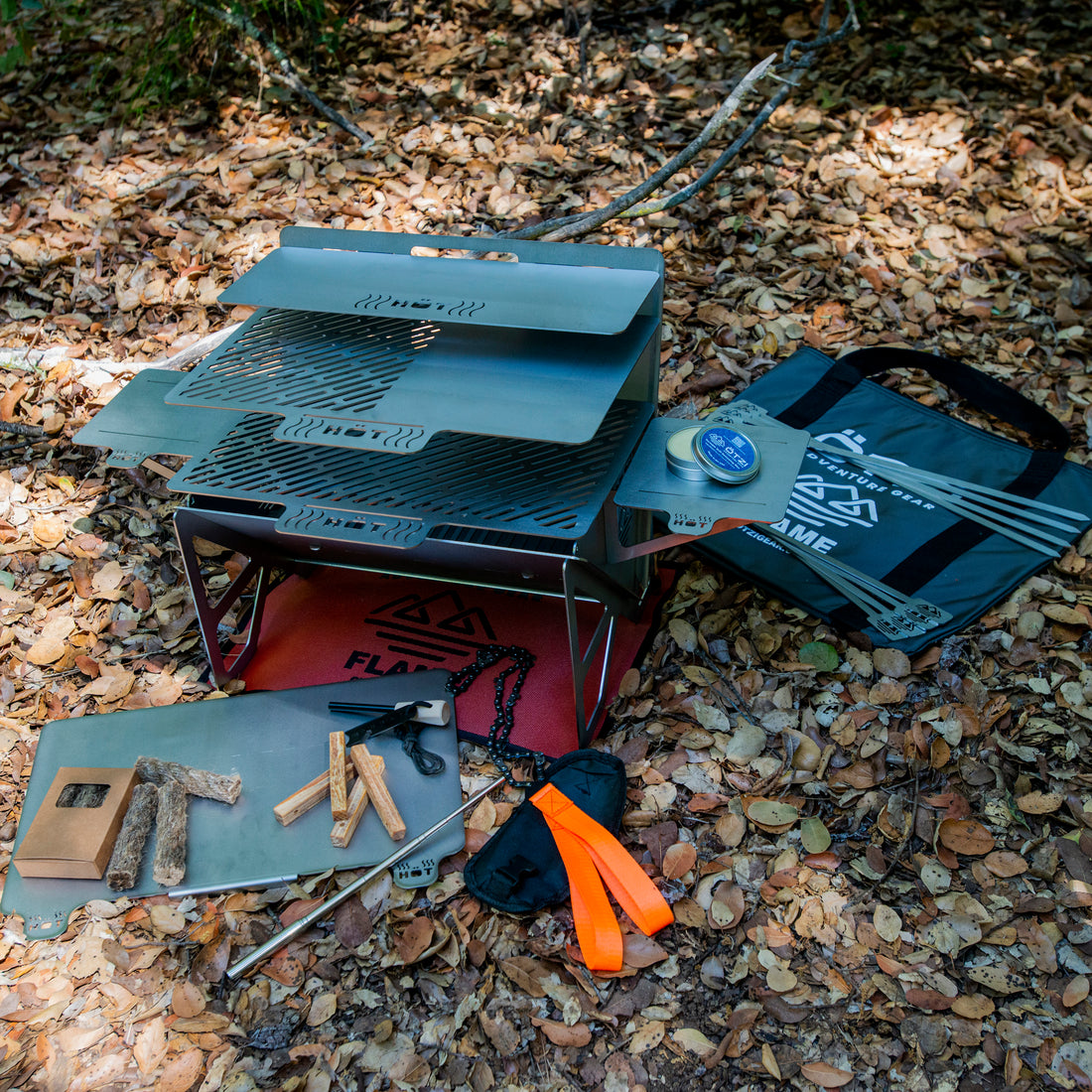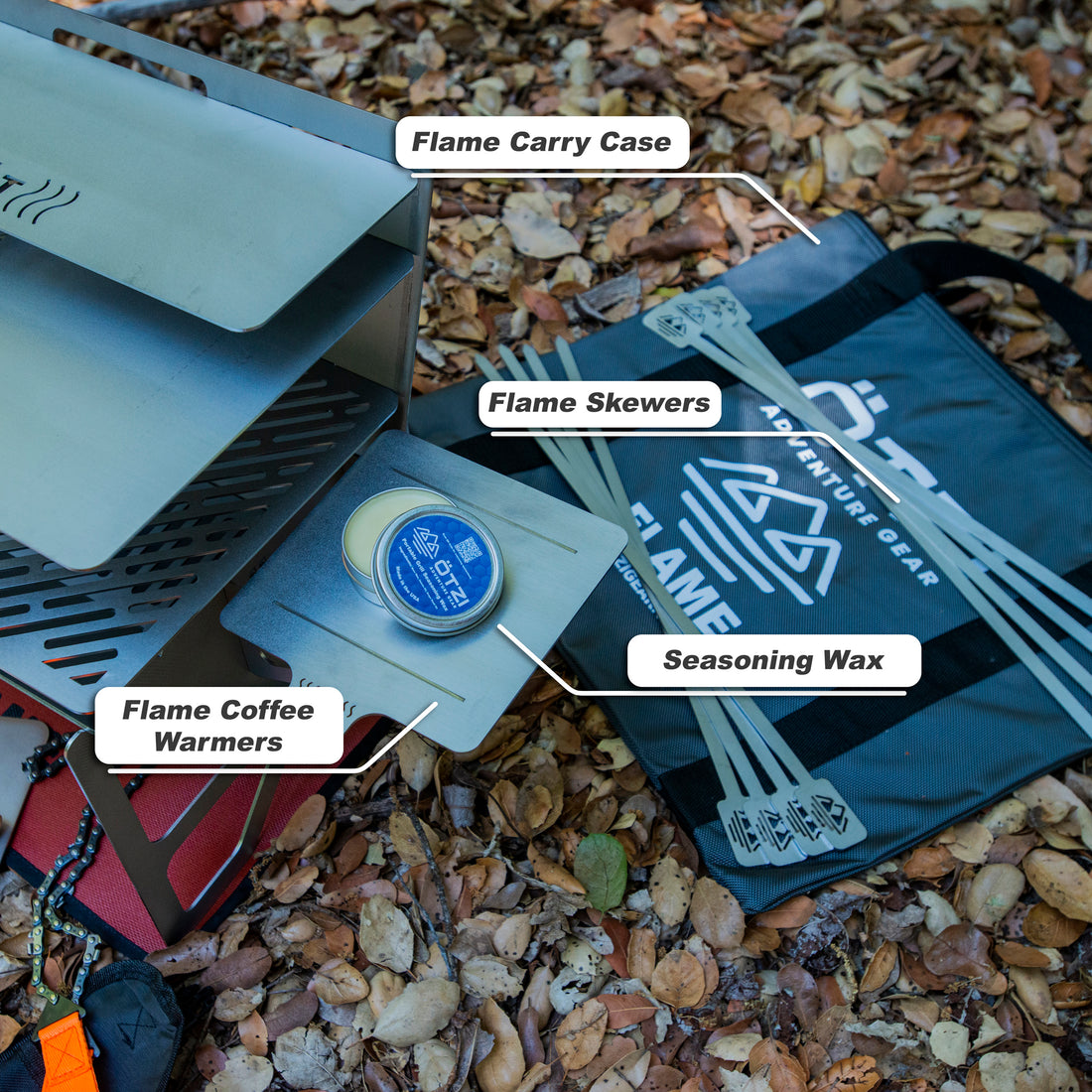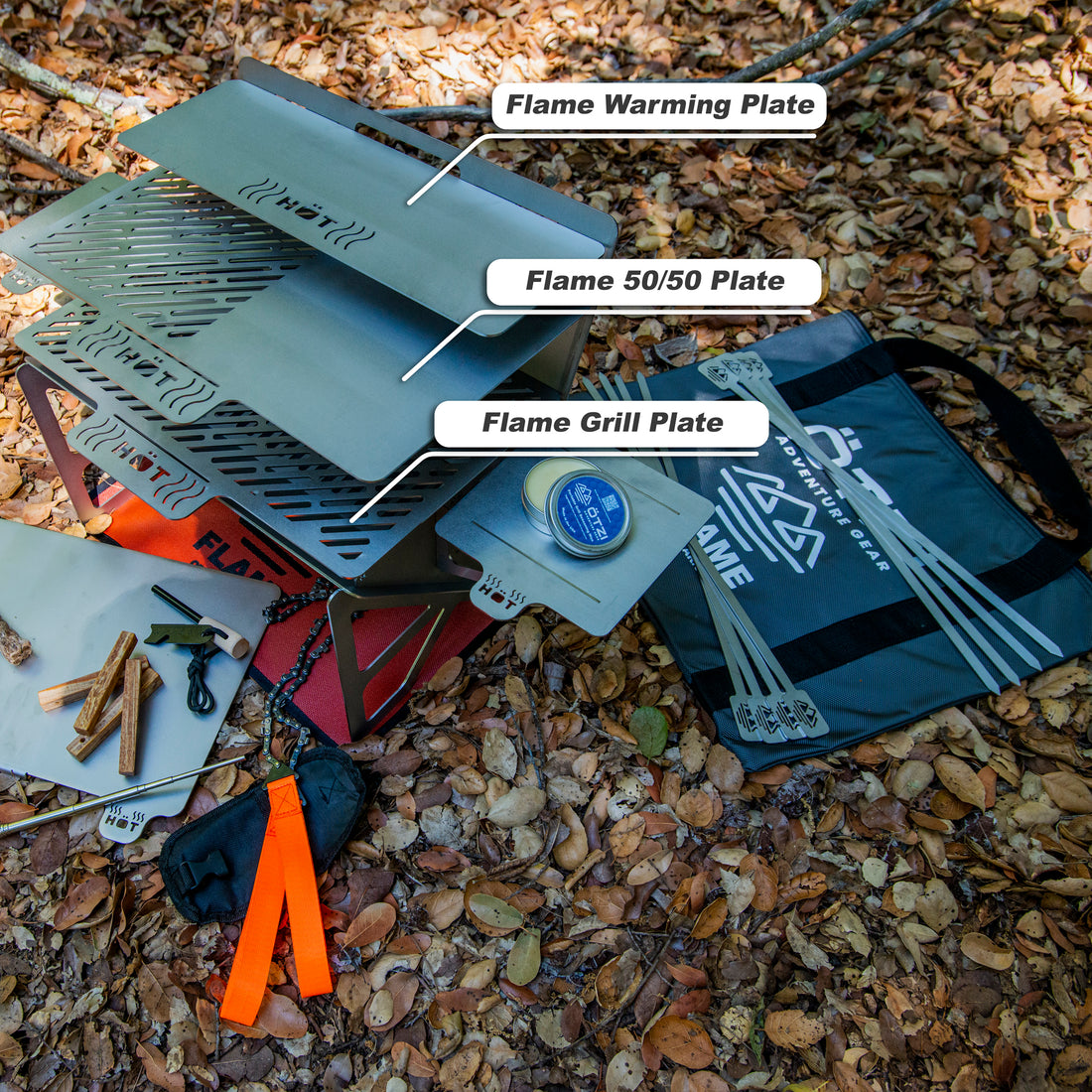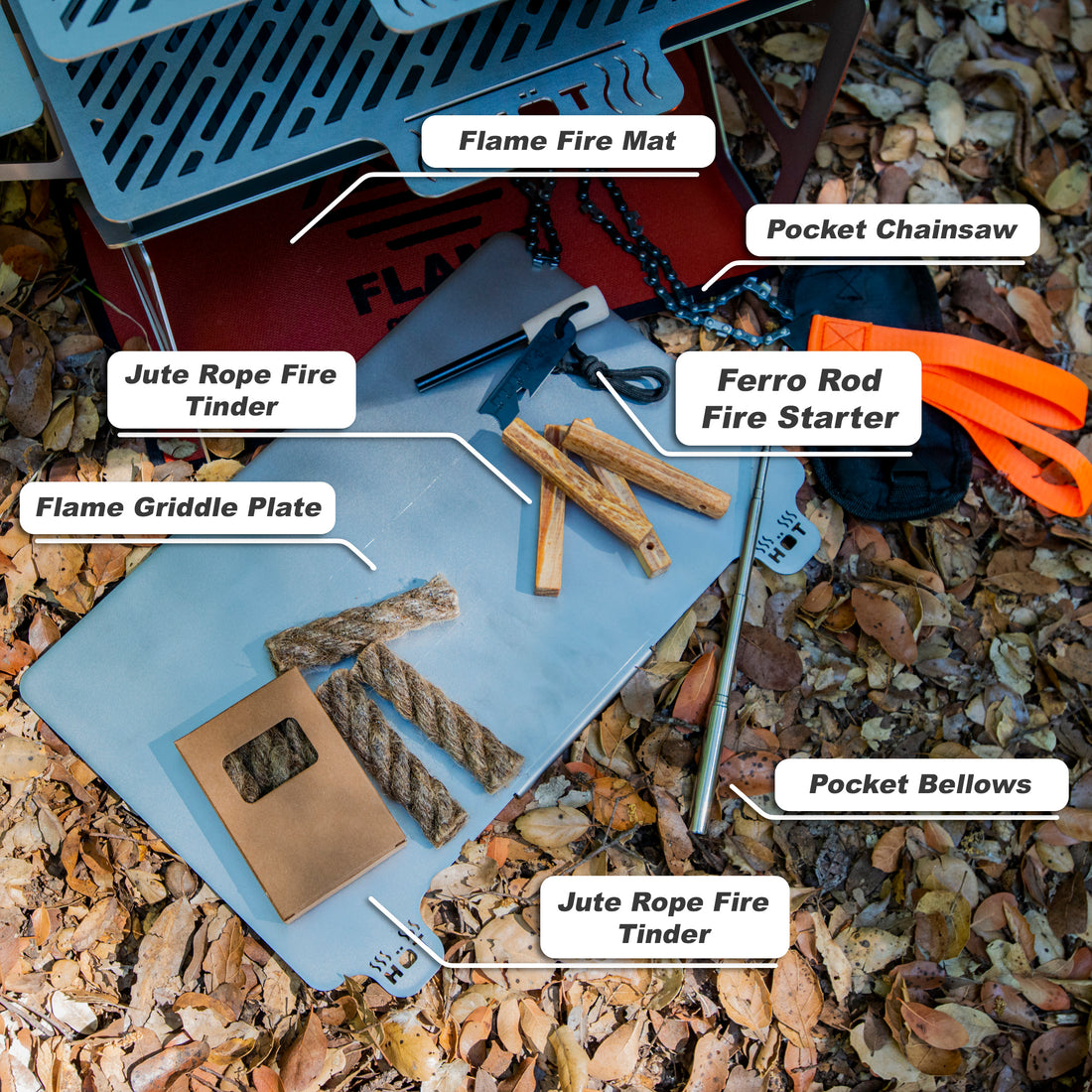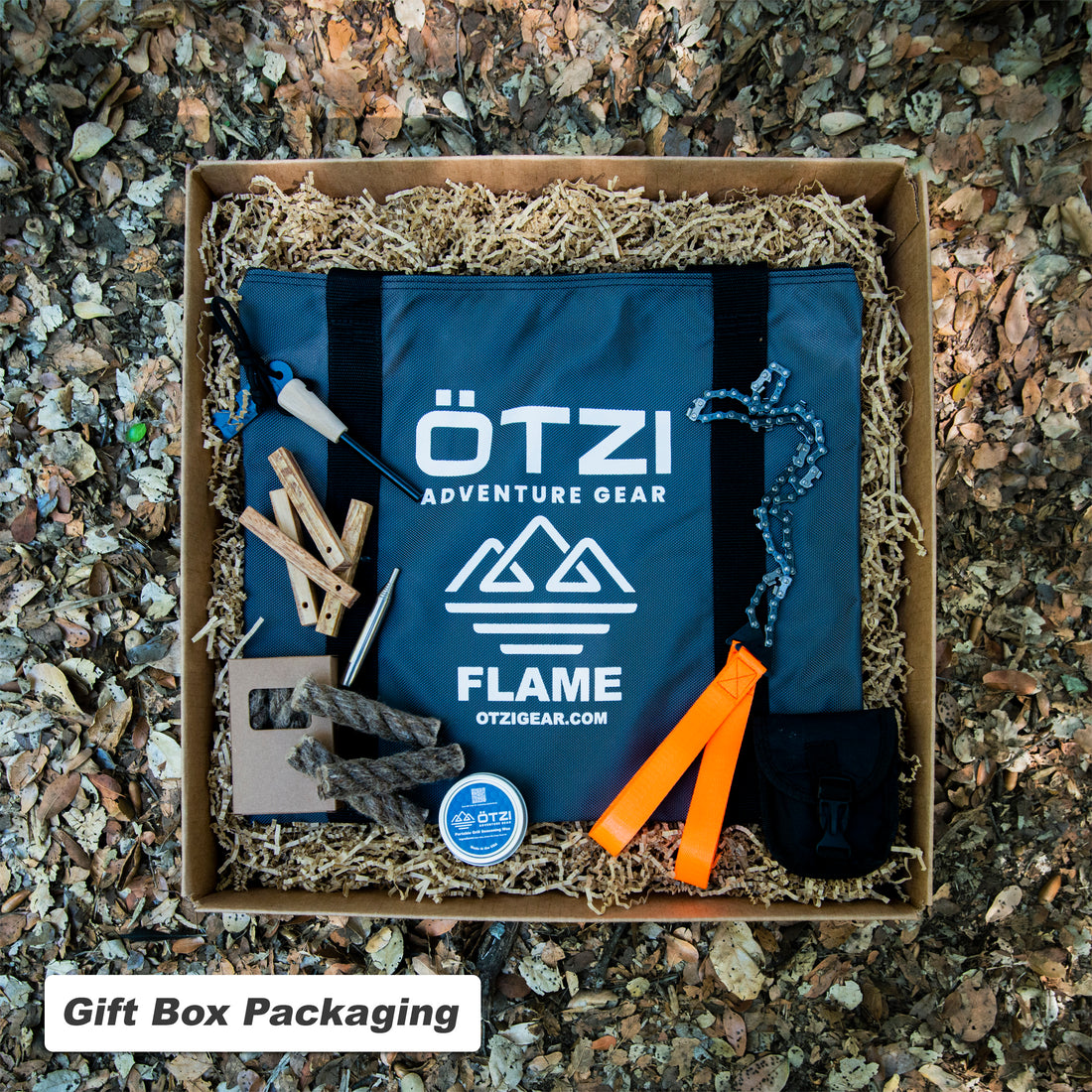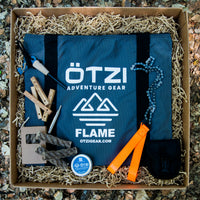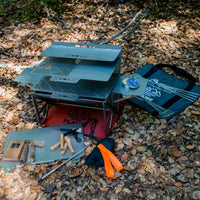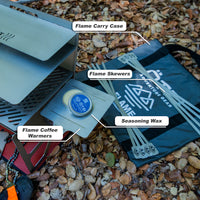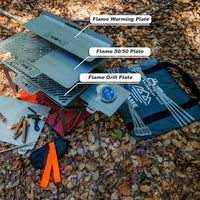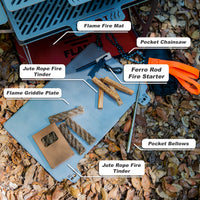 Otzi Flame Expedition Bundle/Gift Box
Otzi Flame Expedition Bundle
Otzi Flame Expedition Bundle
*Also available as a Gift Box! Select "Gift Box" at checkout to upgrade your order. Premium gift packaging and an exclusive Otzi Adventure Gear patch included!* 
 Save 10% with this bundle!
Lead the expedition with our Flame bundle! No matter where your adventures take you, this compact camp kitchen will allow you to feed your family or friends a fresh cooked meal over the fire.
As a gift box this bundle is perfect for the outdoorsy family or the loved one who loves to share, easily feeding four or more. With all the tools for starting a contained fire with either wood or charcoal, this grill kit is easy to assemble and can be stored away in a tight space when not in use. This box has everything your loved one will need to take a backyard barbeque on the road or to the campground!
Built for adventure
Watch the Flame grill in action
Back Country Cooking done right
The Otzi Flat Pack Grill was designed from the ground up for cooking. With an adjustable height grill, heat can be easily controlled throughout the cooking process. And to add even more cooking freedom we designed a 6-position kebab slot for the included skewer. Our patented design makes for an extremely effective and versatile cooking experience for the most adventurous outdoor enthusiasts.
Bundle Includes:
1 - Flame Portable Grill Frame *Hybrid Alloy*
Our largest flat pack grill is perfect for 4-6 people camping, overlanding or living life on the road. Weighing in at 17 pounds and measuring 16" by 18" when stored in the carry case, this grill can be stowed away in the small spaces of a vehicle.
Specs:
Grill Plate Size - 10 x 16 in (25.5 x 40.5 cm)
Overall Size - 16 x 14.5 x 12.5 in (40.5 x 37 x 32 cm)
Weight - 17 lbs (7.7 kg)
1 - Grill Plate
Like all Otzi flat pack grills the Ember cook plates can be adjusted to 4 different heights, giving complete control over the heat throughout the cooking process. 
1 - Griddle Plate
Perfect for eggs, pancakes, fajitas and many other meals requiring a flat solid surface without the hassle of using a pan. The Flame griddle plate is designed to cover the entire 10" x 16" grill plate and lock into place securely.
1 - 50/50 Plate
Our 50/50 plate features half open grill and half solid griddle plate, perfect for breakfast meals like steak and eggs or any meal requiring an open grill surface and a flat solid surface, without the hassle of using a pan.
1 - Warming Plate
This warming plate is a great addition for multi-step meals requiring items to be cooked for different lengths of time, allowing food to be kept warm while the rest cooks. Measuring 5" x 16", this plate can be placed in the upper height positions without blocking access to the main grill plates during cooking.
4 - Skewers
With our 6-position skewer holder, evenly cooking a kebab has never been easier! The skewers can also double as fire prods or marshmallow roasting sticks.
2 - Coffee Warmers
Our side mount coffee warmers attach securely into the skewer notches of our Flame model grill and keep enamel camp mugs and coffee cups steaming hot while you cook.
1 - Flame Fire Mat
This fireproof barrier helps protect surfaces like tables and tailgates from heat, and catches any loose ash or embers that may escape from the grill, providing an even safer camp cooking experience. The fire mat also fits conveniently inside the grill carry case.
1 - Ballistic Nylon Case
Our true ballistic nylon carry case is durable, easy to clean, and resistant to dirt and water. 
1 - Pocket Chainsaw
Perfect for wood harvesting, the bi-directional cutting teeth on our pocket chainsaw cut on both left and right hand pulls to make foraging more productive. Lightweight and easy to store in the grill carry case, this wood-cutting solution will outcut a hatchet!
1 - Stainless Steel Pocket Bellows
Our collapsible pocket bellows makes it easy to direct oxygen at a fire from an adjustable distance, keeping your fire going even in high altitude or wet conditions. 
2 - Wax Infused Jute Rope Fire Tinder (3 pack)
This jute fire tinder makes starting a wood fire fast and easy. The rope can be cut, stranded, and frayed to create easy to light tinder while offering a longer burn time than cotton or other fiber tinder.
4 - Fatwood Natural Fire Tinder
Together with our jute rope fire tinder, our fatwood fire tinder ensures a good start even in wet and difficult conditions. Completely natural and resin rich, this tinder is cut from the stumps of pine trees and is perfect for kindling shavings.
1 - Ferro Rod Fire Starter
The perfect fire starter for all-weather waterproof fire starting, our ferro rod features a natural finish hardwood handle and comes equipped with a multi-use striker featuring a map scale, micro ruler, serrated tinder scraper, hex wrench, and bottle opener. Where matches and lighters can fail or run out of fuel, our ferro rod will produce the perfect spark every time.
1 - Otzi Grill Seasoning Wax
Made from a specific blend of grapeseed oil, canola oil, and beeswax, our seasoning wax provides a high quality and 100% natural option for grill seasoning. Our seasoning wax provides a protective surface that prevents rust and creates an excellent non-stick layer.