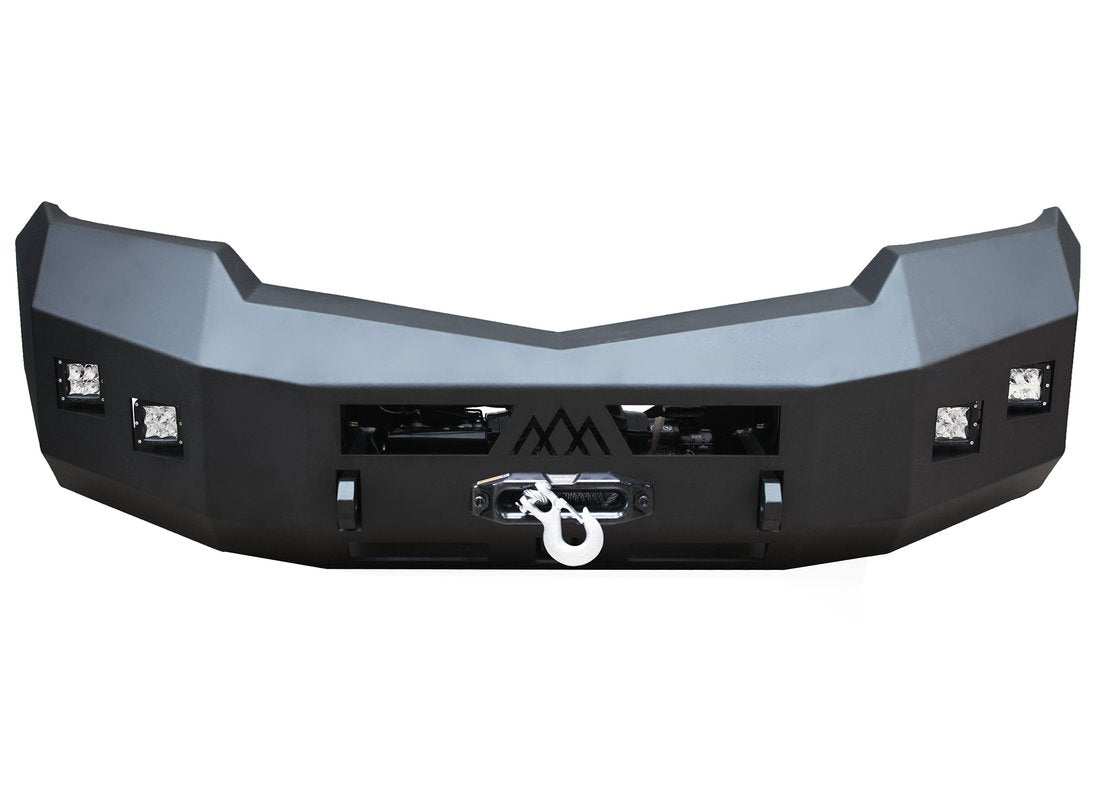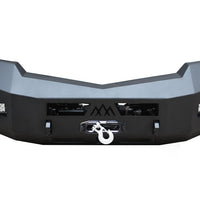 Mercedes Sprinter (2014-2018) Front Bumper Without Bull Bar by Backwoods Adventure Mods
For vehicles that frequently navigate rough terrain in the outdoors or handle heavy-duty jobs at the job site, the front bumper installed by the manufacturer simply won't cut it. These bumpers are designed to crumple on impact for safety purposes in a collision, but for off-roading and getting the dirty work done, crumpling is exactly the opposite of what you need.
The Nomad Series bumper from Backwoods Adventure Mods balances strength with a lightweight design by combining both steel and aluminum construction. The lightweight properties of aluminum, combined with a steel mounting structure, provides strength where you need it while minimizing any added burden to your vehicle. This Mercedes Sprinter front bumper without a bull bar ways just 153 pounds; adding the bull bar will add only seven more pounds, for a total weight of 160 pounds.
The Nomad Series of bumpers offers full frontal coverage with 4 square pocket lights that accept Pathfinder 2" Surface Mount Pods and winch mount for Warn VR and Zeon series winches. The additional wrap-around frame brackets keep your bumper secure, even when using your winch to retrieve heavy loads. All bumpers are also produced with sensor hole cutouts, so you can continue to use these features on your Sprinter. (Please note that parking sensor functionality is not guaranteed. You may experience different results based on your lift, mounting angle, vehicle type, and other factors.) This aftermarket bumper also exceeds Mercedes airflow requirements, ensuring your engine stays cool and operates efficiently after bumper installation.
This bumper is designed to fit 2nd generation Mercedes Sprinters, manufactured between 2014 and 2018. With Backwoods Adventure Mods' scratch-resistant, heavy-duty front bumper, your Mercedes Sprinter will be ready to take on the backwoods and handle any obstacle thrown your way. Get ready for your next adventure with the Nomad Series front bumper.
FEATURES:
Aluminum construction for weight savings
Integrated vertical and horizontal gusset system
Steel mounting structure for strength that includes:

Winch mount for Warn VR and Zeon series winches
Additional wrap-around frame brackets for strength
1" thick shackle mounts for ¾" shackles
2" receiver

4 square light pockets that accept clear or amber Pathfinder 2" Surface Mount Pods
Full frontal coverage of the DEF tank
Exceeds Mercedes airflow requirements
All bumpers are produced with sensor hole cutouts and ship with machined sensor cap deletes.*
Backwoods Bull Bar option is fabricated to fit a Pathfinder 20" LED light bar
Weight:

Without Bull Bar: 153 lbs.
With Bull Bar: 160 lbs.

Vehicle Fit: Mercedes-Benz Sprinter
                  2nd Generation 2014 – 2018
*Parking sensor functionality is not guaranteed. You may experience varying results depending on your lift, mounting angle, type of vehicle, or other contributing factors. The sensors may need calibration or may ultimately not work on the aftermarket bumper.  
Note: Results may vary when moving the CPA sensor from the OEM location. Drive with care until you have verified that the system functions correctly. Adjustments may be necessary. We cannot guarantee Backwoods Adventure Mod's product is compatible with this system.
WARNING: Some of the products listed contain chemicals known to the State of California to cause cancer and birth defects or other reproductive harm. None of Backwoods Adventure Mods' products are intended to be used in conjunction with clean drinking water unless stated otherwise. For more info please visit www.p65warnings.ca.gov or contact the Backwoods Adventure Mods sales team.
***THIS PRODUCT IS MADE FOR OFFROAD USE ONLY***