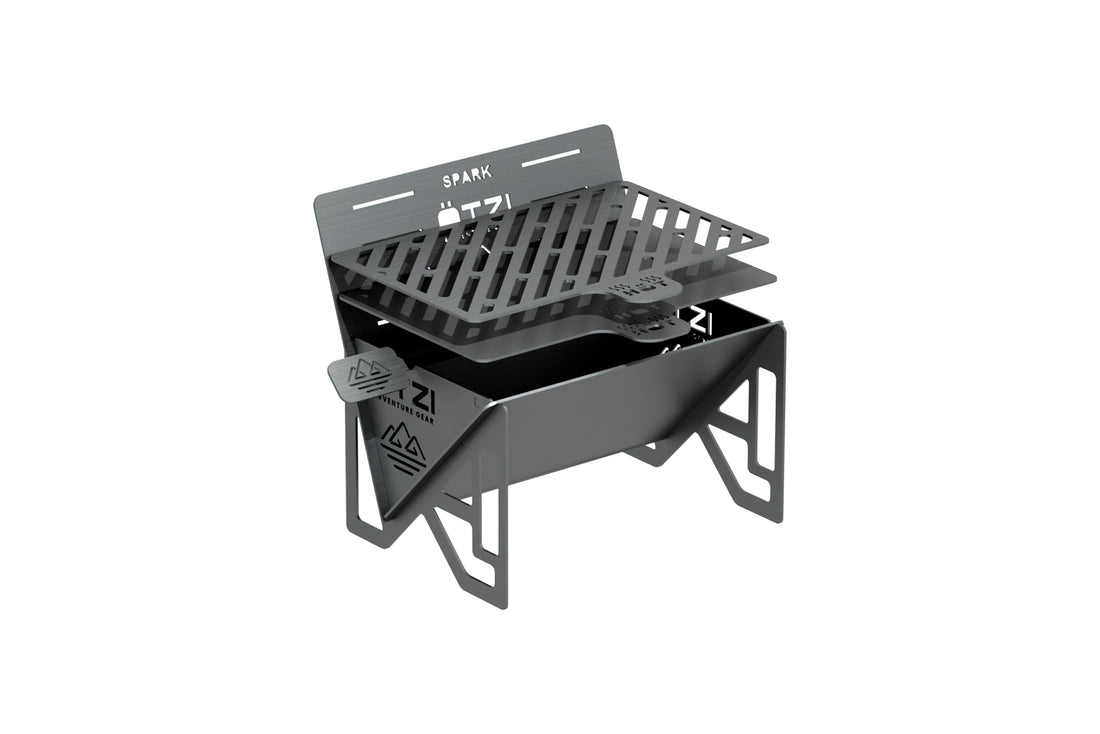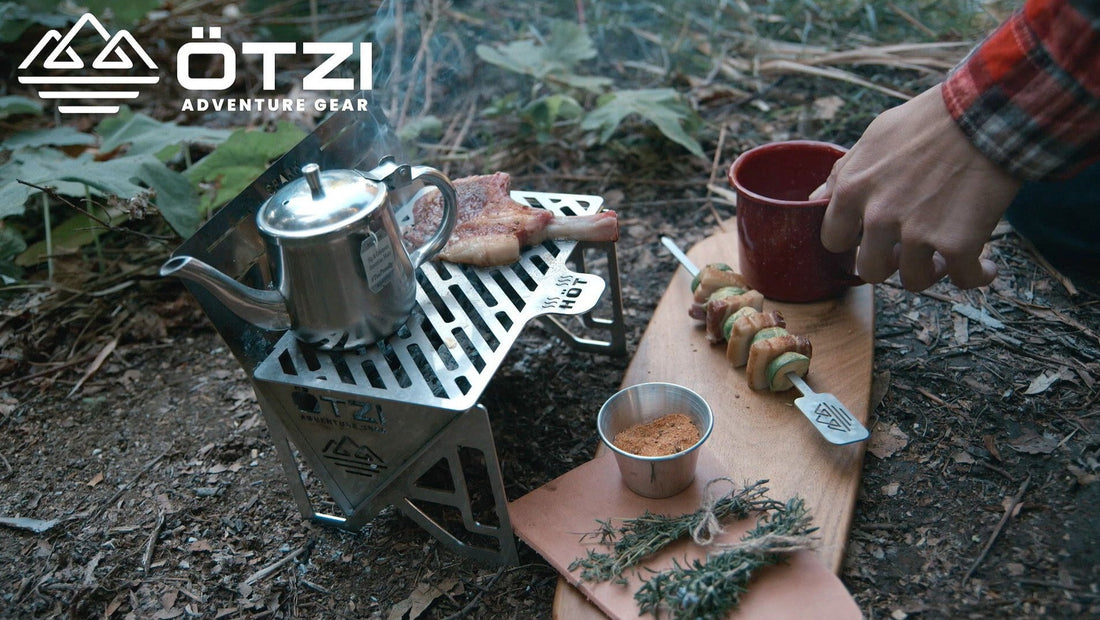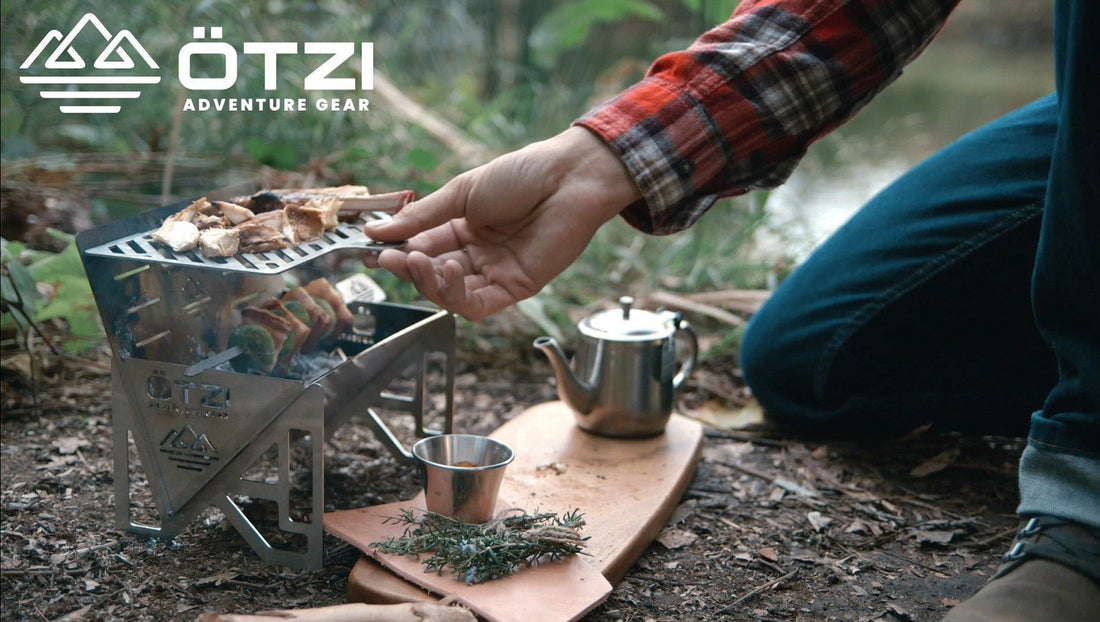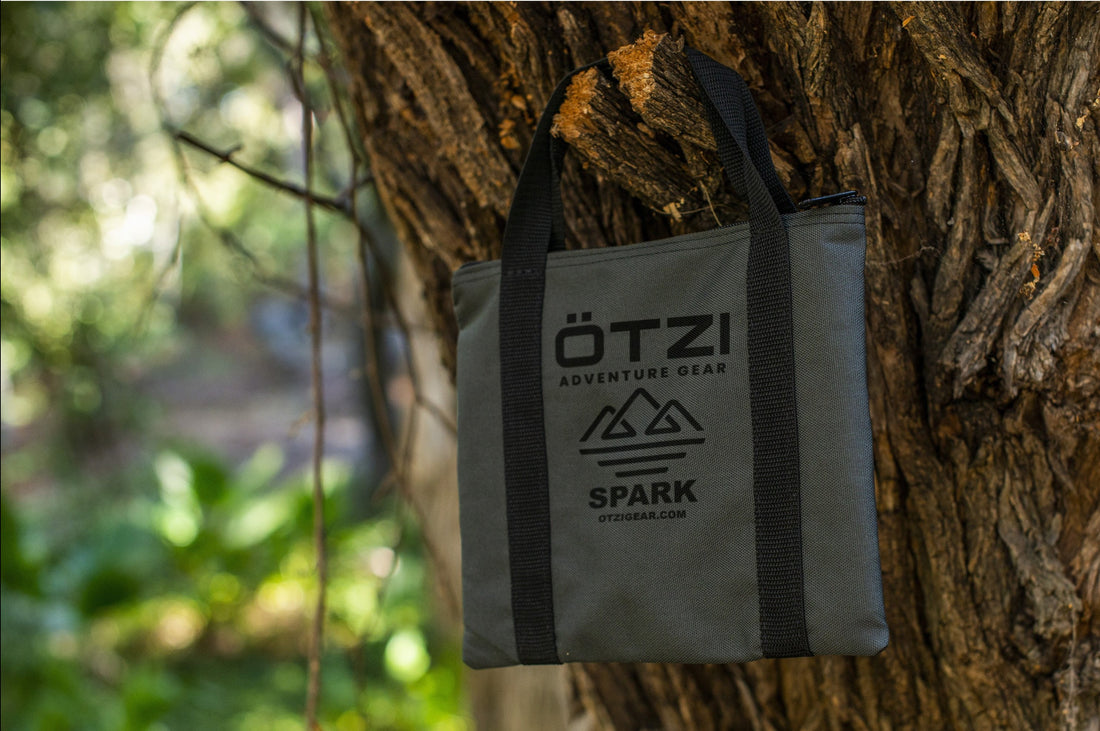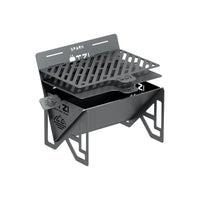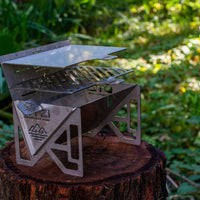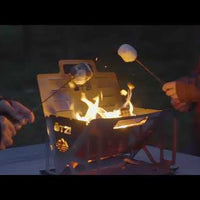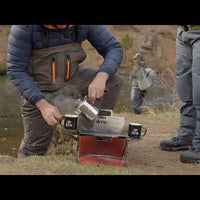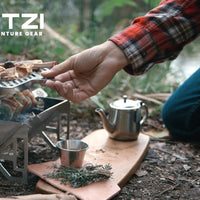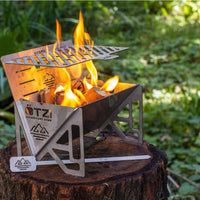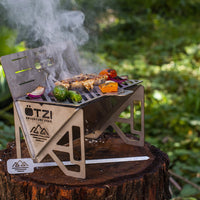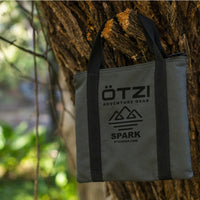 Otzi Spark Portable Single Person Grill *Carbon Steel*
Grill Plate Size - 6 x 9 in (15 x 23 cm)

Overall Size - 9 x 7.5 x 6 in (23 x 19 x 15 cm)

Weight - 4 lbs (1.8 kg)
Our smallest flat pack is perfect for 1 person. Great for backpacking or compact vehicle camping. Weighing in at 4 pounds and measuring 9" by 9" when stored in the carry case the Spark is a great combination of durable and compact.

The cook surface of the Spark is perfect for a single camper or couples. Like all Otzi flat pack grills the Spark cook plates can be adjusted to 4 different heights, giving complete control over the cook heat throughout the cooking process. Cook meals perfectly no matter the heat of your fire. Roast vegetables after grilling a steak by moving the grill up, and even keep food warm while the rest of the meal is being prepared by moving the cook plate to the top position.

Our 6-position skewer holder and flat skewer design work together for great kebab cooking control. Cook evenly on all sides and never have food spin on the skewer or the skewer spin on the grill. Our skewer is also great for roasting marshmallows and even makes a great prod to tend your fire.

Packs flat into our true ballistic nylon carry case. The case is durable, easy to clean, and resistant to dirt and water.

Carbon Steel grills come pre oiled with canola oil and does require seasoning in the oven (instructions included) to prevent rusting. Seasoning will cause a dark color finish on the metal.
1 - Spark Portable Grill Frame

1 - Grill Plate

1 - Griddle Plate

1 - Skewer

1 - Ballistic Nylon Case
Otzi Spark Review
Check out this great in-depth demo and review on the Otzi Spark flat pack grill by AS THE CROW FLIES HIKING!
Get a detailed view of the features and components of the Spark as well as see it in action with some great food.
Looks great!
Haven't used it yet but I'm very happy with the package. Came in a nice carry case. Carbon steel skewer is definitely softer than i expected. All in all this little guy is definitely going to get a ton of use this summer!
Great for motorcycle camping.
I took it on a two night camping trip. The Spark grill fits easily on my motorcycle. I used charcoal (10-12 briquettes seems to be the magic number for one meal). I pulled into the campground late in the evening, setup the grill and started the charcoal. By the time I have the tent setup and food prepped, the coals are ready for cooking.
One night it was especially windy so I used a windscreen around the sides and the griddle on top. This worked great to keep the heat in and grilled my steaks evenly.
Hot Italian brats with zucchini, red peppers, onions and spicy brown mustard on a gyro bread was delicious! Night two was sirloin steak, yellow squash and sweet potatoes. This second meal was a stretch for the little grill to handle. I ended up eating the vegetables as they finished cooking and added the steaks one at a time as room opened up on the grill surface.
In my test at home before the trip, the charcoal lasted long enough to cook four burgers (two at a time) and was still hot a while after. Wind really affects cooking because it doesn't have a lid to keep the heat in. Bring a windscreen and put the griddle in the top slots as a lid. Worked pretty good this way.
Everything you cook on this tastes fantastic!
Buy this grill if you want to really enjoy every bite of food you eat !!! We have tried pork, lamb, beef , bacon , sausage , eggs , we've even made hot tea. This grill is fast to cook, easy to use , and very portable! 5 stars! Buy it today !
Nice piece of kit!
I've been seeing your stoves online for a while. The spark is a great small size to pack on the motorcycle. After meeting you guys at the Delmar tiny fest, I decided I had to have one!
It arrived quickly, and performs as advertised.
It's already been to Baja twice! I think I'll probably get the big one this summer to go in the Sprinter!
It's just right for me
I usually camp by solo and this is a good size. I chose the carbon steel since it holds heat well, and I seasoned it in my oven beforehand to help prevent rust. I really like that it folds flat and takes up a small amount of space. The first meal was a big steak with poblano and I'm looking forward to doing some kabobs on the skewers.